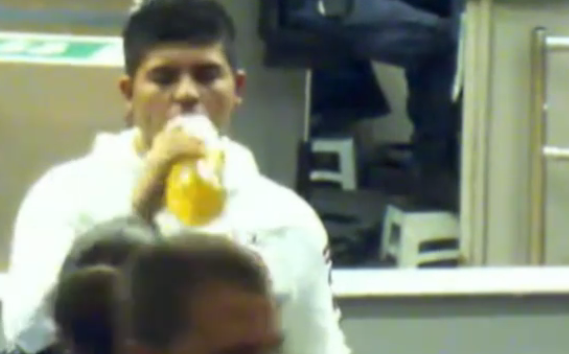 Cruz Velazquez Acevedo began convulsing shortly after he drank the liquid methamphetamine he'd brought with him from Tijuana, Mexico.
The 16-year-old had just crossed the U.S.-Mexico border to San Diego and was going through the San Ysidro Port of Entry. He was carrying two bottles of liquid that he claimed was apple juice. U.S. Customs and Border Protection officers told him to drink it to prove he wasn't lying, court records say.
A surveillance video published by ABC Friday, about 3 1/2 years after Acevedo's death, shows the teen taking a sip of the liquid after one of the two officers, Valerie Baird, motioned for him to drink. He took another sip after the other officer, Adrian Perallon, made a gesture with his hand, appearing to tell him to drink more.
The teen took four sips.
Then, he began sweating profusely. He screamed and clenched his fists.
In a matter of minutes, his temperature soared to 105 degrees, his family's attorney said. His pulse reached an alarming rate of 220 beats per minute — more than twice the normal rate for adults.
"Mi corazón! Mi corazón!" Acevedo screamed, according to court records — "My heart! My heart!"
He was dead about two hours later.
The United States has since agreed to pay Acevedo's family $1 million in a wrongful-death lawsuit brought against two border officers and the U.S. government.
The family's attorney, Eugene Iredale, acknowledged that the teen did something wrong when he tried to bring drugs into the United States on Nov. 18, 2013.
"But he's a 16-year-old boy with all the immaturity and bad judgment that might be characteristic of any 16-year-old kid," Iredale told The Washington Post. "He was basically a good boy, he had no record, but he did something stupid. In any event, the worst that would've happened to him is that he would've been arrested and put in a juvenile facility for some period of time. …
"It wasn't a death penalty case. To cause him to die in a horrible way that he did is something that is execrable."
A Customs and Border Protection spokesman said in a statement that the agency's Office of Professional Responsibility investigated the incident and "determined that no further action was warranted and the officers involved were not disciplined."
Iredale said he does not know where or how Acevedo got the drugs, or why he brought them into the United States.
"It's typical for people who are drug smugglers to approach kids and offer them $150 to smuggle drugs across the border," he said. "We're never going to know in this case because Cruz died. He knows it's something he shouldn't be bringing."
Iredale said the teen was carrying his passport and his border crossing card, which allows Mexican citizens to enter the United States and travel within a certain distance for tourism purposes. In California and Texas, the distance is up to 25 miles from the border; New Mexico and Arizona allow noncitizens to travel for up to 55 miles and 75 miles, respectively.
The two Border Protection officers believed the teen was carrying a deadly controlled substance, but they "coerced and intimidated" him into drinking the liquid, according to a complaint. The boy was taken to a hospital almost an hour after he had sipped the methamphetamine.
He was pronounced dead just before 9 p.m.
Iredale called the officers' treatment of Acevedo "the most inhuman kind of cruelty."
"I'm not prepared to say they knew for certain that it was going to kill him. … It's obvious that they suspected from the beginning that it's meth," Iredale said. "Playing a cruel joke on a child is not something that's justifiable in any way. They have test kits available that would've given results in two to three minutes."
Iredale said the officers did test the liquid for drugs, but only after the teen started overdosing.
He also cited testimony by another border officer who said Baird confessed minutes after the incident.
"I asked him what it was, he said it was juice," Baird told the other border officer, according to Iredale. "I said to him then, 'prove it.' "
Richard Tolles, an attorney for Baird, said his client and Perallon had sought a summary judgment on the case and were waiting for a hearing on their requests when the government decided to settle.
Perallon's attorney did not return a call from The Washington Post.
Perallon and Baird are still employed by the Customs and Border Protection in San Diego, the agency said in an earlier statement.
"Although we are not able to speak about this specific case, training and the evaluation of CBP policies and procedures are consistently reviewed as needed," the statement said.
The U.S. attorney's office for the Southern District of California declined to comment, but the Customs and Border Protection spokesman said federal prosecutors have declined to file charges.
The complaint alleged violations of constitutional rights, including the right to not be subjected to punishment without due process. It also accused government officials of not adequately training border officers. Tolles said there was no misconduct on his client's part "that would've risen to the level of denial of due process."
"There is no violation of any clearly established constitutional right," he said.
In a motion to dismiss filed on behalf of Baird in 2015, her attorneys said Acevedo wasn't a U.S. citizen and had no connections with the United States that entitled him to any constitutional rights.
"Nonresident aliens are entitled to constitutional protections only if they have substantial voluntary connections with the United States," the attorneys argued.
Iredale said the settlement was the result of several conversations between the parties. The money has been paid to Acevedo's parents, Iredale said.
Source: The Washington Post