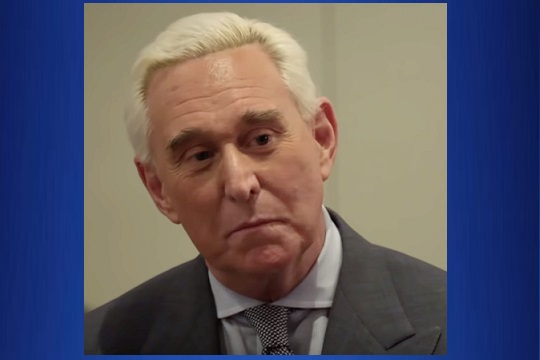 A judge has expressed "disgust" at US President Donald Trump's former adviser Roger Stone, as she sentenced him to 40 months in prison.
Stone, 67, was found guilty in November on seven counts of lying to Congress, obstruction and witness tampering.
The judge said Stone threatened her, but Mr Trump said he should be cleared.
He is the sixth Trump aide convicted on charges linked to a justice department inquiry that found Russian attempts to boost Mr Trump's 2016 campaign.
What was Stone convicted of?
Stone was found guilty of lying to the House Intelligence Committee about his attempts to contact Wikileaks, the website that released damaging emails about Mr Trump's 2016 Democratic election rival Hillary Clinton.
US intelligence officials have concluded the messages were stolen by Russian hackers.
Stone will serve two years' probation after his custodial sentence. He has also been fined $20,000 (£15,500) and must serve 250 hours of community service.
He will not have to report to prison until the judge rules on a pending defence appeal.
Stone's sentence fell short of an initial seven- to nine-year recommendation from prosecutors.
What did the judge say?
Speaking in her Washington DC court on Thursday, Judge Amy Berman Jackson said Stone had engaged in "threatening and intimidating conduct" towards her.
She said Stone "knew exactly what he was doing" when he posted an image on social media last year of a gun's crosshairs next to her head.
Stone had claimed he thought the crosshairs were a Celtic cross.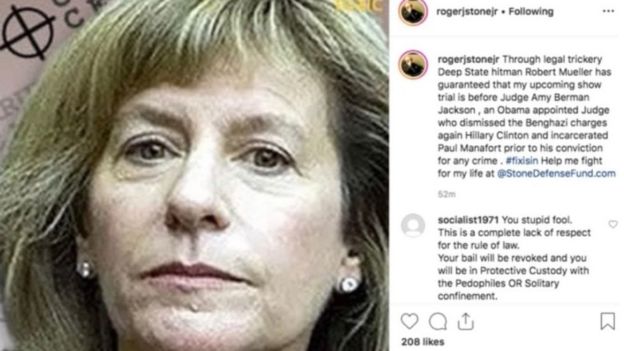 "This is intolerable to the rule of justice," she said. "The court cannot just sit idly by and say 'that's just Roger being Roger.'"
Judge Jackson also said Stone "was not prosecuted for standing up for the president, he was prosecuted for covering up for the president".
She continued: "The dismay and disgust at the defendant's belligerence should transcend party."
"At his core, Mr Stone is an insecure person who craves and recklessly pursues attention."
She said the politics surrounding the case did not inform her ultimate decision.
"The truth still exists. The truth still matters," she said.
What politics was the judge referring to?
After prosecutors last week recommended a sentence of seven to nine years, Mr Trump tweeted that such a prison term would be "very horrible and unfair".
The Department of Justice then swiftly said it planned to reduce the amount of prison time sought for Stone.
This led all four prosecutors on the case to quit, one leaving the justice department entirely.
On Thursday, Judge Jackson called the justice department intervention "unprecedented".
What did Stone's lawyer say?
The defendant's attorney, Seth Ginsberg, said that despite his client's image as a "dirty trickster", he was a spiritual man, devoted to his family.
"Mr Stone is, in fact, not simply that public persona, but a human being," he said.
Mr Ginsberg had argued that Stone should get no prison time.
Stone declined to speak at Thursday's hearing. Wearing sunglasses and a dark fedora, he entered the courthouse flanked by his wife, family and friends.
He walked past several protesters, one of whom shouted "traitor".
How did President Trump respond?
Speaking in Las Vegas, Nevada, after the sentencing, the Republican president defended Stone.
He indicated no immediate plans to pardon Stone, but said "at some point I'm going to make a determination".
Mr Trump said: "I'd love to see Roger exonerated, and I'd love to see it happen because I personally think he was treated very unfairly."
"It is my strong opinion that the forewoman of the jury is totally tainted," Mr Trump also said. "She was an anti-Trump activist."
Awaiting Stone's sentencing, Mr Trump sent a tweet that seemed to question his ally's conviction while listing a host of perceived enemies.
What does Trump mean by a 'tainted' jury?
Mr Trump was apparently referring to Tomeka Hart, a former Democratic congressional candidate originally from Tennessee who has publicly identified herself as a jury forewoman.
One of her fellow jurors has denied bias played any part in the guilty verdict for Stone.
Stone plans an appeal on the basis of supposed juror bias.
Who is Roger Stone?
Stone has worked with Republicans since the 1970s and has a tattoo of Richard Nixon on his back.
In the 1990s, Stone worked as a lobbyist for Mr Trump's casino business, and later helped Mr Trump's unsuccessful White House run in 2000.
According to the Netflix documentary Get Me Roger Stone, the strategist reportedly encouraged Mr Trump to run for the presidency again.
Source: bbc.co.uk