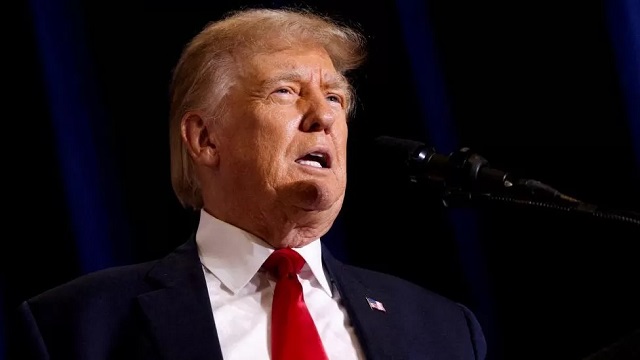 Donald Trump "repeatedly" misrepresented his wealth – by up to $3.6bn (£3bn) – to banks and insurers, a New York judge has ruled.
The decision resolves a key claim made by New York's attorney general in her civil lawsuit against the former president.
"The documents here clearly contain fraudulent valuations that defendants used in business," the judge wrote.
It is a blow for Mr Trump ahead of the civil trial, which begins on Monday.
Attorney General Letitia James sued Mr Trump last September, accusing him, his two adult sons and the Trump Organization of lying about his net worth and asset values between 2011 and 2021.
Ms James claimed they issued false business records and financial statements in order to get better terms on bank loans and pay less tax.
In a trial that will now resolve six remaining claims in her suit, she will seek $250m in penalties and a ban on Mr Trump doing business in his home state.
The non-jury trial is scheduled to begin 2 October and last until at least December.
In a pre-trial phase of the case known as summary judgement, Ms James had asked Justice Arthur Engoron of the New York state court in Manhattan to rule on her claims.
She argued that finding certain facts to be beyond dispute would speed up the trial.
Defence lawyers for Mr Trump called for the case to be thrown out, arguing the public had not been harmed by Mr Trump's actions and the loans in question occurred long ago.
Mr Trump has previously dismissed the case in New York as another political "witch hunt" brought by a prosecutor biased against him.
As part of Tuesday's decision, Judge Engoron ordered the Trump Organization to cancel its New York business licenses and recommend independent monitors to oversee that dissolution.
He also denied the request to throw out the case and separately fined five Trump attorneys $7,500 each for making arguments already rejected by the court.
During arguments relating to the case on Friday, a lawyer with Ms James' office said the former president had signed off on statements that overinflated the valuations offered by appraisers his company hired.
Trump attorney Christopher Kise, meanwhile, argued doing so showed that Mr Trump was an "investment genius" and "a master at finding value where others see nothing".
Judge Engoron said Mr Trump's behaviour amounted to more than bragging about his riches and that he and his company repeatedly lied about his financial affairs.
"In defendants' world, rent-regulated apartments are worth the same as unregulated apartments; restricted land is worth the same as unrestricted land; restrictions can evaporate into thin air," he wrote.
"That is a fantasy world, not the real world."
Source: bbc.co.uk