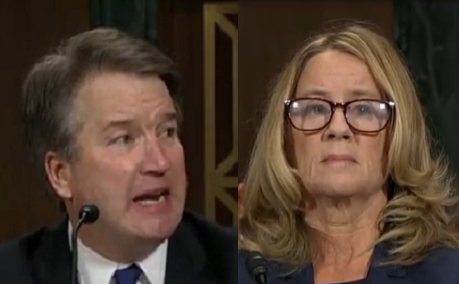 The man nominated for a vacant post on the US Supreme Court by Donald Trump emphatically denied allegations of sexual assault on Thursday.
Brett Kavanaugh told the Senate Judiciary Committee his confirmation process had become a "disgrace".
He accused Democratic senators of destroying his family and his good name for political reasons.
Earlier, Christine Blasey Ford said an assault by Mr Kavanaugh 36 years ago had "drastically" affected her life.
Dr Ford told the committee that the alleged event had left her "afraid and ashamed".
President Donald Trump has now said the Senate "must vote" on Mr Kavanaugh's confirmation to the Supreme Court.
This is expected next week, although the outcome is far from certain with a number of senators on both sides undecided.
The American Bar Association has called for a delay of the vote to allow the FBI to investigate the claims by Dr Ford and other women.
The Supreme Court plays a vital role in US political life – appointed for life, its nine members have the final say on US law.
This includes highly contentious social issues, such as abortion, and challenges to government policy.
Mr Kavanaugh's appointment would tilt the balance in favour of conservatives for years to come.
For this reason, Republicans accuse the Democrats of seeking to delay the confirmation until after the mid-term elections in November when they hope to win enough seats to stop it altogether.
What did Brett Kavanaugh say?
Taking a combative approach but occasionally becoming emotional, Mr Kavanaugh, 53 – a federal judge – went on the offensive following Dr Ford's testimony.
"This confirmation process has become a national disgrace," he told the committee.
"The constitution gives the Senate an important role in the confirmation process, but you have replaced advice and consent with search and destroy.
"Since my nomination in July there has been a frenzy on the left to come up with something, anything to block my confirmation."
He insisted he would not be "intimidated" into withdrawing from the process.
"You may defeat me in the final vote but you'll never get me to quit. Never."
Mr Kavanaugh said he did not doubt that Dr Ford had been assaulted, but insisted: "I've never sexually assaulted Dr Ford – or anyone."
He admitted he had drunk beer while at high school and under-age, but said he had never got so drunk as to forget events.
He added that his calendars for 1982 – which he had kept – showed he had not attended a party at the location Dr Ford had described.
Under hostile questioning from Democratic senators, he repeatedly insisted he was innocent and said an FBI investigation -suggested by Dr Ford to establish the truth – would be useless as it would not reach conclusions.
What did Christine Blasey Ford say?
Prior to Thursday, no-one had heard from 51-year-old Dr Ford publicly since the allegations arose.
After addresses by the leading Republican and Democrat senators, Dr Ford delivered her statement, at times close to tears.
"I am here today not because I want to be," she said. "I am terrified. I am here because I believe it is my civic duty to tell you what happened to me while Brett Kavanaugh and I were in high school."
She alleged Mr Kavanaugh and his friend Mark Judge had locked her in a bedroom during a small gathering at a house in a Washington DC suburb in the summer of 1982, when she was 15 and Mr Kavanaugh was 17.
She said Mr Kavanaugh had tried to remove her clothing, pinned her to a bed and groped her. Both men were "drunkenly laughing", she said.
She added: "Brett's assault on me drastically altered my life. For a very long time, I was too afraid and ashamed to tell anyone the details."
Under questioning by a Democratic senator, she said her most vivid memory was "the laughter between the two and their having fun at my expense… they were laughing with each other – two friends having a really good time with one another".
In an answer to another Democratic senator's question about claims of mistaken identity, Dr Ford said she was "100%" certain it was Mr Kavanaugh who had assaulted her.
The 21 senators on the committee were given five minutes each to ask her questions.
The 10 Democrats posed questions themselves, many paying tribute to Dr Ford's bravery in coming forward – and supporting her call for an FBI investigation into her allegations.
The 11 Republicans, all men, deferred most of their questions to a female lawyer, Phoenix prosecutor Rachel Mitchell.
Are there other allegations against Mr Kavanaugh?
Yes, and new ones appeared as the hearing loomed. At present they are:
Deborah Ramirez. The former Yale University classmate has said that Mr Kavanaugh once exposed himself to her at a dormitory party in the 1980s. She alleges the incident occurred during a drinking game and remembers Mr Kavanaugh standing to her right and laughing, pulling up his trousers
Julie Swetnick. A Washington DC resident. In a sworn affidavit she alleges Mr Kavanaugh was involved in the drugging and sexual assault of girls at house parties in the 1980s. She says she was the victim of a gang rape in 1982 at a party attended by the judge
Anonymous. A woman sent a letter to a Colorado senator alleging her daughter had witnessed Mr Kavanaugh pushing a woman he was dating "very aggressively and sexually" against a wall in 1998
Mr Kavanaugh denies these allegations.
In his written testimony he says: "Over the past few days, other false and uncorroborated accusations have been aired. There has been a frenzy to come up with something – anything, no matter how far-fetched or odious – that will block a vote on my nomination.
"These are last-minute smears, pure and simple."
What is Donald Trump's stance?
Moments after the day-long hearing ended, Mr Trump said he found Mr Kavanaugh's testimony "powerful, honest and riveting".
He has portrayed the events in political terms, accusing the Democrats of trying to block the nomination.
Mr Trump has repeatedly defended the judge's character, saying he is "one of the highest quality people" he has ever met.
But the president on Wednesday did say he could withdraw the nomination if accusations against the judge were proven.
He said: "I can always be convinced. If I thought he was guilty of something like this, yes, sure. It's possible I'll hear that, and I'll say, 'hey, I'm changing my mind'. I want to watch."
Why does this all matter and what happens next?
The Senate Judiciary Committee must vote on Mr Kavanaugh's confirmation before it goes to the full Senate for a vote there.
The committee is scheduled to vote on Friday but its chairman, Republican Senator Chuck Grassley, has left open the possibility of a further delay.
All 10 Democratic senators on the committee have called on President Trump to "immediately withdraw" Mr Kavanaugh's nomination.
Republicans want their nominee in place before mid-term elections next month, when they could lose their 51-49 control of the Senate.
Any confirmation of Judge Kavanaugh could also affect female voters in November. The confirmation of Supreme Court Justice Clarence Thomas in 1991, despite allegations of sexual harassment, fuelled the rise of a new generation of female politicians in elections the following year.
Culture wars flashpoint
By BBC North America editor Jon Sopel
It is hard to overstate the passions, the conspiracy theories, the mistrust and division this Supreme Court appointment has stirred.
To make sense of this you have to understand two things about the Supreme Court – justices are appointed for life, and the Supreme Court, not politicians, will ultimately decide on the most contentious issues of the day – from desegregating schools in the 1950s to abortion law, to gun control and to same-sex marriage.
It was the Supreme Court that decided the outcome of the 2000 presidential election in favour of George W Bush. You name it, they rule on it.
In the 2016 election, many Republicans voted for Donald Trump while holding their nose – but they did so because they thought he'd deliver on their long cherished dream of delivering a Supreme Court with a clear conservative majority for a generation. Now they fear it is slipping away.
And the fact that Brett Kavanaugh's accusers have come forward at the last minute is seen by many Republicans – mostly male – as a Democrat-inspired plot, not as a legitimate complaint.
The culture wars that have simmered in America for 50 years are finding an extraordinary flashpoint today – cultural conservatives versus Me Too. And in this battle, Judge Kavanaugh and the female complainants are just collateral damage. The reverberations of this hearing will echo for a long time to come.
Source: bbc.co.uk