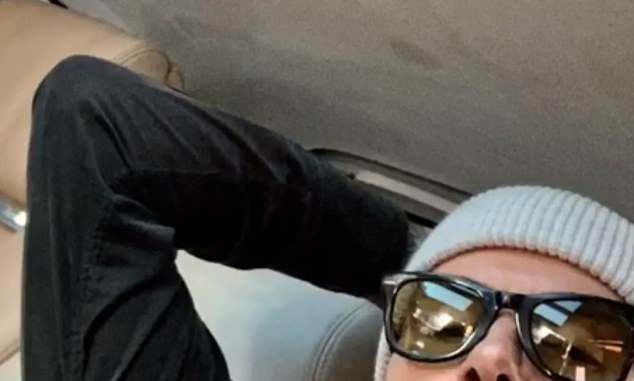 By AMIE GORDON and MARTIN ROBINSON, UK CHIEF REPORTER FOR MAILONLINE and JOE MIDDLETON
David Beckham has been cleared of speeding after celebrity lawyer Nick Freeman, dubbed 'Mr Loophole', successfully fought the claim on a technicality. 
The former England captain, 43, admitted breaking the 40 mph limit while driving his £200,000 Bentley along the A40 in west London, in January.
Nick Freeman represented him at Wimbledon Magistrates' today and mounted a successful challenge on the basis the papers were served late.
Mr Beckham was not required to attend and he went to catch a Eurostar to Paris, where his wife Victoria is already enjoying fashion week.
Before his train he was in one of his luxury cars and posted on Instagram: 'London traffic. Angry' alongside a cartoon character with steam coming out of its ears.
Mr Freeman called a witness from Bentley Motors Limited as part of his case that a letter sent to the firm was received a day later than is required under the law on February 7.
Colette Hollies, a legal assistant at Bentley said: 'I did recognise the number plate on that notice because we had one the previous week for the same vehicle.
'I was aware that it was the same driver.'
Wimbledon Magistrates' Court heard during the trial that Met Police administrators printed the notice of intended prosecution (NIP) and sent it on February 2.
The court heard the car was a 'loan vehicle' from Bentley so a notice of intended prosecution was sent to the manufacturer instead of Beckham after it was clocked speeding on January 23.
But a stamp recording its receipt at Bentley was marked February 7 and by law, the notices have to be served within 14 days.
Although Beckham's solicitor 'admitted' the footballer was behind the wheel and broke the limit, a judge ruled that the notice was served out of time and he could therefore not be convicted.
Mr Freeman said: 'David Beckham is the defendant but in relation to today – what's on trial is the Bentley postal system.
'I accept from an admission made in the past that yes, he accepts his driving, he accepts the speed. That's not an issue before the court.
'I realise that may cause some disquiet but that's a matter for Parliament. This is a statutory issue.
'If the law needs to be changed then so be it. The notice of intended prosecution must be served on the registered keeper within 14 days so in other words at the latest by 6 February.
'It might be that no-one is at fault, possibly the letter might have been sent but that does not in any way mean that Bentley's postal system was in a state of disrepair.
'There may be inexplicable delays in a sorting office in London or a sorting office in Crewe.
'It might simply be a fault of the system – we don't know.'
Charles Royle, prosecuting, told the court: 'This is an allegation of speeding on the Westway in a Bentley motor vehicle on 5.37pm on the 23 January. That activated the average speed camera on the A40.
'It was clocked was 59mph and the speed limit on the section of the A40 was 40mph.
'The notice of intended prosecution we say was generated on the 2 February, thereby within the prescribed time limit. We say the court can presume service of that document. Service was effected in two working days of posting.'
The prosecution produced witnesses from the Metropolitan Police Service to argue the notice of intended prosecution (NIP) was served before February 7.
The court heard from administrator Vivien Howie, who said all notices were sent by first class post. She was shown an example of a conditional fixed penalty notice that however appeared to have been sent second class, she said: 'Yes, it's second class.'
Ms Howie said she did not recall whether she had to change the franking machine on the day Beckham's notice was posted to change the stampings from second class to first class.
System administrator Sylvia Gladman also admitted to the court that Beckham had wrongly been sent a separate fixed penalty notice two months after the speeding offence, on March 28.
Mr Freeman said: 'Was a notice of intended prosecution sent to David Beckham at the wrong address in relation to driving a Ford vehicle going through a red traffic light?'
Shown a letter signed by her, Ms Gladman said: 'Yes, I believe it was the wrong vehicle.'
The defence barrister added: 'It shows there are mistakes in the system and this is one of the key players in that system. He had no involvement whatsoever in this offence.'
Caron Flood, who manages the post room at Bentley Motors Limited, said she and her colleagues were 'familiar' with the notices and would open all post addressed to the company to check what they were.
She said the notices would be put into a pigeon hole for the legal department – and a representative would visit twice a day to collect any delivered post.
Ms Flood said: 'We probably get two or three a week of the NIP's. We are very familiar as we see them very regularly and we know that they are for the legal department.
'The staff understand the importance of the legal department's post. Nothing untoward happened on those days. I would remember.'
District Judge Barbara Barnes rejected the claim that notice was served on time, and cleared Beckham of the driving offence on the legal technicality.
She said: 'What I find is, on the balance of probabilities, it's more likely than not that this notice of intended prosecution was actually not served on the registered keeper in the 14 days as required because although it was sent on February 2nd and should have been served within two days what I find is that it did not arrive in the post-room at Bentley Motors Limited until February 7th and that therefore by one day was just outside of the required legal limit.
'As a result of my finding then the defendant in this case can't be convicted.'
In 1999 Mr Freeman represented Beckham, who received an eight month ban for driving his Ferrari at 76mph in a 50 mph zone.
Freeman successfully appealed against disqualification by arguing that Beckham was being pursued by paparazzi near his home in Cheshire.
Beckham made his name as a midfielder at Manchester United in the 1990s before going on to play for Real Madrid, LA Galaxy, AC Milan and Paris Saint-Germain.
He also earned 115 caps for the national side. He retired from playing in 2013.
Source  dailymail.co.uk