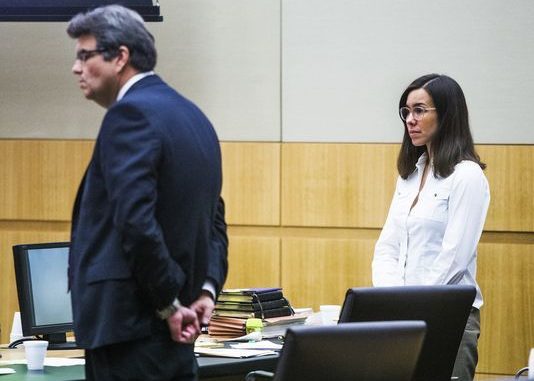 PHOENIX — Convicted killer Jodi Arias, who knifed and shot her ex-boyfriend in 2008 in his shower, filed a civil lawsuit earlier this week in Maricopa County Superior Court against her former defense lawyer.
The lawsuit claims that L. Kirk Nurmi, who headed Arias' legal team during her 2013 and 2015 murder trials, violated attorney-client privilege and unjustly enriched himself by publishing a tell-all book about the case before Arias was able to appeal her conviction and life sentence for the murder of her lover, Travis Alexander.
Asked to comment on the suit, Nurmi responded in an emailed statement that when Arias failed at controlling the case, she tried to ruin his career and his reputation.
"Standing up to the abuse Ms. Arias imparted upon me over the years was an important part of my personal transformation and I will continue to fight this battle with vigor as I defend against this lawsuit, which is best viewed as a continuation of Ms. Arias' pattern of attacking men whom she feels have wronged her," he wrote in his statement.
"Of course, no one person has suffered at the hands of Ms. Arias (more) than Mr. Alexander, and I look forward to clearing the air on all the derogatory assertions that Ms. Arias made about him as I defend against the outrageous claims made in this lawsuit."
Nurmi's book, which he titled Trapped with Ms. Arias in part because Arias hated being called "Ms. Arias," already has led to Nurmi's disbarment.
In November, Nurmi surrendered his license to practice law after lawyer Karen Clark filed a State Bar of Arizona complaint on Arias' behalf because of the book.
Clark also has filed a complaint for Arias against the case's prosecutor, Juan Martinez, in which she alleges Martinez fed information about the Arias trial and a holdout juror to a blogger with whom he was rumored to have a romantic entanglement. That complaint is still pending with the State Bar.
Martinez has fended off five bar complaints since the Arias trials, the last as recently as September. One of the dismissed complaints related to a book Martinez published about the case.
Clark and Ralph Adams, Clark's husband and law partner, filed the current lawsuit Tuesday against Nurmi.
► April 2015: Exclusive one-on-one with Jodi Arias' attorney
► April 2015: Jodi Arias sentenced to natural life in prison
It claims Nurmi violated attorney-client privilege by revealing details about Arias and her trial against her wishes. It pinpoints passages in the book that it claims are personally disparaging to Arias or in violation of the rules of ethical conduct for lawyers.
The suit also claims that Nurmi was obsessed with the sexual aspects of the case.
Arias killed Alexander, her sometime boyfriend, during a tryst June 4, 2008, at his Mesa, Ariz. house. The nude photos they took of each other and a steamy recorded telephone conversation between them became evidence in the trial and were widely dispersed through live-streaming and social media.
► March 2015: Juror treatment, conduct in Jodi Arias case raises questions
► March 2015: Juror who saved Jodi Arias' life speaks out for the first time
Clark and Adams write in the lawsuit that Arias was embarrassed by the sexual content of the trial, and Nurmi would taunt her about it, telling her he had made enlargements of the photographs. The lawsuit also claims that Nurmi used one of the photos as the screen saver on his office computer, and that visitors to his office could plainly see it.
As a consequence, the lawsuit asks that Nurmi pay Arias all of the money he received from the book, whether through book sales or appearance fees.
"Mr. Nurmi's self-published book about his representation of Ms. Arias revealed confidential and privileged information and violated his most basic ethical and fiduciary duties to Ms. Arias," Clark and Adams said in a joint statement sent via email. "His book violated his duty to protect confidential information and also contained false statements about Ms. Arias and gross misstatements about her case."
Source usatoday