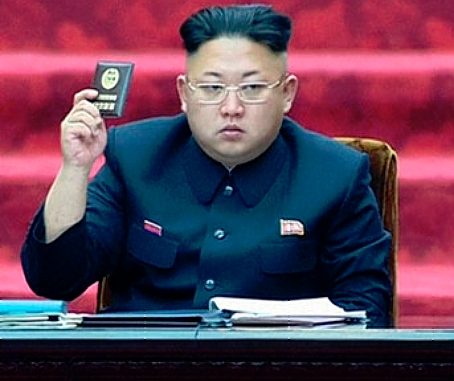 By SIMON OSBORNE
NORTH Korea has denied detaining political dissidents and insisted its notorious prison camps and brutal human-rights abuses were nothing more than fabrications by the West.  A recent Amnesty International report found crackpot leader Kim Jong-un's regime had created and maintained an entire infrastructure dedicated to political repression and social control.
But one of Kim's senior aides, vice-foreign minister Han Song-ryol, poured scorn on the claims in a sabre-rattling interview where he also threatened to carry out nuclear missile tests on a weekly basis.
Han Song-ryol  Han told the BBC: "We do not tolerate any others criticising our style of socialism and we believe in the choice we have made.  "The masses are the centre of our state and their security and human rights are guaranteed."
"As for the so called political prison camps, it is something that our enemies have fabricated and it has been disseminated by their followers in order to demonise our country."
Its report said: "Satellite imagery of North Korea's network of political prison camps show its government is continuing to maintain, and even invest, in these repressive facilities.
"These camps constitute the cornerstone of the country's large infrastructure dedicated to political repression and social control that enables widespread and systematic human rights abuses."
Amnesty International said it used high-resolution satellite pictures in order to assess this infrastructure.
The group's imagery analyst Micah Farfour said: "Taken together, the imagery we've analysed is consistent with our prior findings of forced labour and detention in North Korea's kwanliso, and the physical infrastructure the government uses to commit atrocities are in working order."
Amnesty International's 2016/2017 report on the hermit state said around 120,000 people remained in detention in its known political prison camps, where they were subjected to systematic, widespread and gross human-rights violations such as forced labour, and torture and other ill-treatment − some amounting to crimes against humanity.
The report said: "Many of those held in these camps had not been convicted of any internationally recognised criminal offence but were detained for guilt-by-association – simply for being related to individuals deemed threatening to the state."
Kim has recently raised tensions in the region with a sabre-rattling military parade, failed ballistic missile test and blood-curdling rhetoric about waging war with the US.
Yesterday, Han delivered a direct riposte to US President Donald Trump and his assertion that North Korea will not be allowed to develop nuclear weapons.
He said: "According to our own schedule we'll be conducting more tests on a weekly, monthly and yearly basis."
Source: express.co.uk