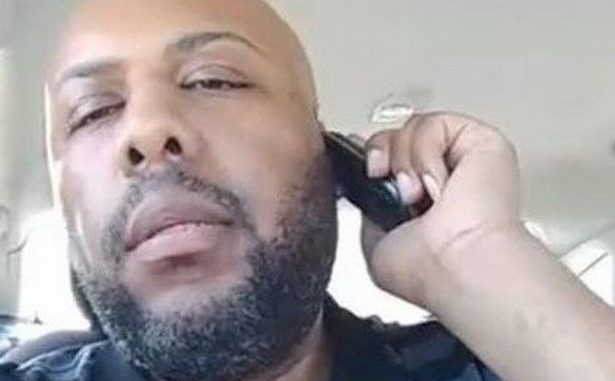 Police say a man suspected of randomly shooting a grandfather on an Ohio street and posting video of the killing to Facebook has taken his own life.
Pennsylvania State Police tweeted that Steve Stephens was spotted on Tuesday morning in Erie County.
"After a brief pursuit, Stephens shot and killed himself," they tweeted.
Stephens, 37, allegedly shot dead 74-year-old Robert Godwin as the victim walked home from Easter lunch on Sunday afternoon in Cleveland.
His mobile phone signal was last tracked on Sunday afternoon to Erie, Pennsylvania, 100 miles (160km) from where police say he shot Mr Godwin.
Cleveland Mayor Frank Jackson told a news conference: "We have closure in regards to the search for Steve Stephens."
City police chief Calvin Williams told reporters that Pennsylvania State Police received a tip-off shortly after 11:00 on Tuesday.
The suspect's white Ford Fusion car had been spotted in the car park of a McDonald's in the city of Erie, he said.
Mr Williams said there was a brief police chase after which the suspect's car stopped.
He took his own life with his gun as officers approached his vehicle, and was pronounced dead at the scene, added the police chief.
Mr Williams said: "We would like to have brought Steve in peacefully and really talk to him to find out exactly why this happened… find out why he did what he did and what drove him to this."
Stephens had been added to the FBI's 10 Most Wanted List as the manhunt was extended from five US states to nationwide.
Police said earlier on Tuesday that authorities had received more than 400 tips, including as far away as Texas.
The family of Mr Godwin – a father of 10 and grandfather of 14 – said on Monday they forgave the suspected killer.
His daughter, Tonya Godwin-Baines, had urged Stephens to surrender.
"Each one of us forgives the killer, the murderer," she told Cleveland TV station WJW. "We want to wrap our arms around him."
"I forgive you and love you, but most importantly, God loves you. God can heal your mind and save your soul."
The victim's son, Robert Godwin Jr, said: "Steve, I forgive you… I'm not happy what you did, but I forgive you."
Cleveland officials had announced a reward of up to $50,000 (£39,000) for information leading to the suspect's arrest.
Facebook has launched a review of its procedures after criticism that the footage stayed on the site for hours.
Justin Osofsky, Facebook's vice-president of global operations, said the first complaint made about the video showing the killing came nearly two hours after it was posted.
But he added: "We know we need to do better."
Source: bbc.co.uk