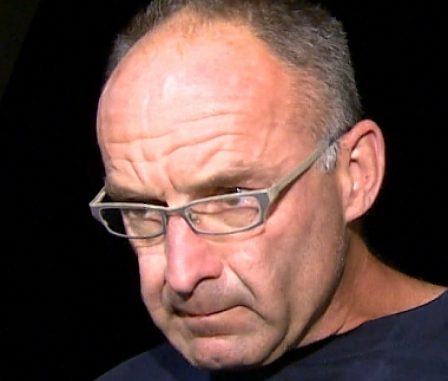 Jurors in the Douglas Garland case are expected to hear evidence Monday about the triple-murder suspect's obsession with a Calgary couple.  Court heard last Thursday about a computer hard drive police found stashed in the rafters of the basement of the Airdrie farm Garland lived at with his elderly parents.
In her opening address two weeks ago, Crown prosecutor Vicki Faulkner detailed what was allegedly found on the data storage device.
"What you will see is the obsessive research done," Faulkner said, of what the prosecution says was uncovered on the hard drive.
"Research that will show you how the accused continued to keep his grudge against Alvin (Liknes) alive," she said, of a dispute Garland had with the Calgary man over the patenting of a pump both men had worked on.
Faulkner told jurors Garland's Internet queries started to incorporate Liknes' wife Kathy.
Garland, 57, is charged with three counts of first-degree murder in the June 30, 2014 disappearance of the couple and their five-year-old grandson, Nathan O'Brien, from their Parkhill home in southwest Calgary.
It's the Crown's theory Garland violently kidnapped the trio from the residence and murdered them at his farm.
In her opening address detailing what is allegedly contained on the hard drive, Faulkner told jurors Garland engaged in "meticulous, painstaking research.
"Research about murder and how to kill without emotion. Research on torture," she said.
"Research showing a fascination with autopsies and the female body being autopsied and dissected, and a fascination with restrained and diapered women."
In evidence last week court heard about the hundreds of exhibits seized from the 16-ha Garland property, which included a bag containing about 50 pairs of adult hospital diapers.
Lead forensics investigator Const. Ian Oxton detailed the items found, which included a hacksaw and two hacksaw blades, two meat hooks, dozens of knives, handcuffs and leather restraints.
"He methodically researched not only ways to kill but weapons to kill with, not only how to perform autopsies but tools to perform them with," Faulkner said.
Garland's Internet exploration not only showed him ways to kill, but helped him carry out the murders, the prosecutor alleged.
"This was not just research, it was research that led to action, research that led the accused to purchase weapons and tools for killing and dismembering," she said.
Oxton, who was on the witness stand for parts of three days, told the three-woman, 11-man jury police conducted an extensive search of the Garland residence and the outbuildings on the property.
Oxton also sifted through six large barrels of ash taken from a fire pit on the farm.
Over a 10-month period he painstakingly sifted through the ashes, putting in approximately 550 hours looking for evidence.
Among the items found "was 17 fragments that could be teeth," he said.
He also found "items of jewelry," an earring, a small bracelet and "buttons for clothing."
A search of the garage uncovered numerous chemicals, including a half-empty bottle of chloroform and insulin.
Garland's trial is scheduled for five weeks.
By: Kevin Martin
Source: calgarysun.com