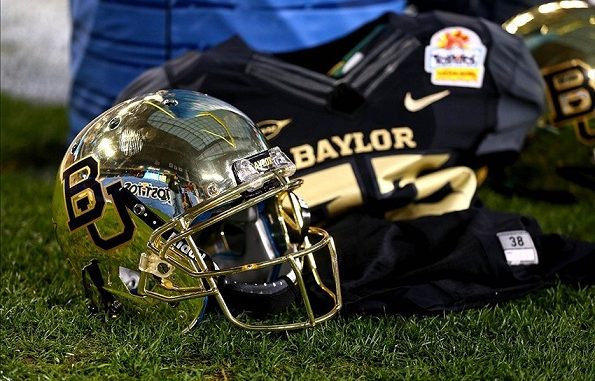 In a lawsuit filed Friday against Baylor, a university graduate alleged that 31 football players were involved in a minimum of 52 rapes from 2011 to 2014.
Those numbers are significantly higher than previously reported. According to The Dallas Morning News, the totals are not verified yet.
The student alleged she was gang-raped in 2013 by two Baylor football players after a party. Shamycheal Chatman and Tre'Von Armstead were not charged of a sexual-assault crime, according to police.
It also alleges a "culture of sexual violence" and describes her 2013 attack by the two players. It doesn't detail the other alleged attacks, but says some were recorded by the players, who shared them with friends.
According to the lawsuit, campus officials didn't investigate her case until 2015. One of the players involved was suspended from the team and later expelled. The other had transferred.
The lawsuit alleges the football program operated under a "show'em a good time" policy that "used sex to sell" Baylor to high school recruits.
The woman, who is listed in the documents only as "Elizabeth Doe,"  graduated from the school in 2014. Her lawsuit accused the university of Title IX violations and negligence.
The suit also states that there were five gang rapes among the 52, and two involved 10 or more players.
John Clune, the woman's attorney, said Baylor has tried to take steps to avoid a similar situation, but it's not enough.
"As hard as the events at Baylor have been for people to hear, what went on there was much worse than has been reported," Clune said in a statement.
A previous rape allegation was made against one of the accused in this case, but university officials never took action.
The new lawsuit details alleged practices of arranging sex for football recruits to lure them to sign with the school and also a permissive culture toward drugs and alcohol.
"Our hearts go out to any victims of sexual assault," interim university president David E. Garland said in a statement on Friday.
"Any assault involving members of our campus community is reprehensible and inexcusable. Baylor University has taken unprecedented actions that have been well-documented in response to the issue of past and alleged sexual assaults involving our campus community."
A Baylor study conducted by a law firm indicated that 17 women reported sexual assaults or domestic assaults involving 19 players, The Wall Street Journal reported in October.
The woman was a member of a campus group called the Baylor Bruins that would host prospective athletes during visits. The lawsuit alleges Baylor encouraged making Baylor Bruins available for sex with recruits, as well as taking recruits to strip clubs, implied promises of sex and using alcohol and drugs in the recruiting process.
The sexual assault scandal resulted in Art Briles losing his job as football coach, the resignation of athletic director Ian McCaw and the departure of chancellor Ken Starr.
Art Briles' attorney Ernest Cannon denied the program culture described in the lawsuit.
If they were doing that it would be terrible, but they weren't doing that. Art wasn't involved in anything like that," Cannon said. "Lawyers have great imaginations when money is involved. It's really sad."
Baylor representatives declined to comment on the latest claims.
The school faces at least five lawsuits from women who allege they were attacked and that the school failed to protect them or ignored their complaints.
In a statement, Baylor President David E. Garland said the university had made "great progress" in fortifying security measures since the sexual assault scandal erupted last year.
"Baylor University has taken unprecedented actions that have been well-documented in response to the issue of past and alleged sexual assaults involving our campus community," Garland said. "We have made great progress in implementing 105 recommendations to strengthen the safety and security of all students and restore faith in the university."
The statement did not specifically address the allegations in the new lawsuit.