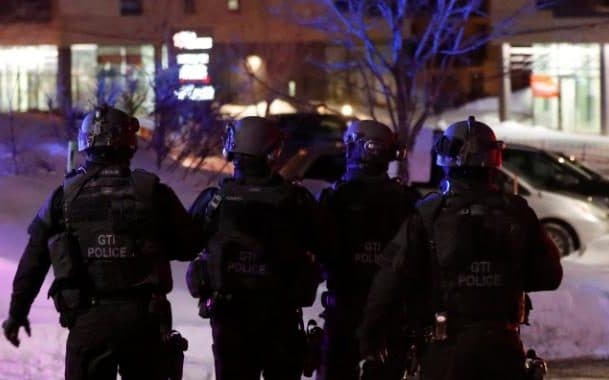 Six people were killed and more injured after gunmen opened fire in a Québec City mosque during evening prayers in what the Canadian prime minister called a "terrorist attack on Muslims".  "We condemn this terrorist attack on Muslims in a centre of worship and refuge," Justin Trudeau said in a statement following the shooting.
The gunmen opened fire in the mosque during evening prayers, Mohamed Yangui, Québec City Islamic Cultural Centre, told reporters.
Police confirmed several people "were killed" and "several injured" in the shooting but did not initially specify how many.
Mr Yangui said the shooting happened in the men's section of the mosque. He said five males had died and he worried that some were children. He said he wasn't at the centre when the attack occurred but he got some details from people on the scene.
He said an estimated 60-100 people would have been there at the time of the shooting. "We are sad for the families," he said.
Two suspects arrested
Québec City police spokesman Constable Pierre Poirier said two suspects were arrested. Police said the mosque had been evacuated and things were under control.
A large perimeter was set up around the Islamic cultural centre of Québec, in the Sainte-Foy neighbourhood.
An eyewitness saw heavily armed tactical police entering the mosque, Reuters reported. Police spokesman Etienne Doyon declined to say whether there was a gunman inside the mosque.
Local newspaper Le Soleil said it had obtained information that one of the suspects was a 27-year-old with "a Québec name", and one had an AK-47 automatic weapon in his possession. Police, however, have not released nor confirmed these details.
A witness told CBC's French-language service Radio-Canada that two masked individuals entered the mosque.
Gunman 'shouted Allah Akbar' – eyewitness
"It seemed to me that they had a Quebecois accent. They started to fire, and they they shot they yelled, 'Allahu akbar!' The bullets hit people that were praying. People who were praying lost their lives. A bullet passed right over my head," said the witness who asked to remain anonymous.
"There were even kids. There was even a three-year-old who was with his father."
Earlier, a witness told news agency Reuters that up to three gunmen fired on about 40 people inside the Québec City Islamic Cultural Centre.
The Canadian prime minister quickly took to social media to express his condolences.
Justin Trudeau condemns 'cowardly' attack
"Tonight, Canadians grieve for those killed in a cowardly attack on a mosque in Quebec City. My thoughts are with victims & their families," Justin Trudeau tweeted.
He later said on Twitter that he spoke to Quebec's premier and was being briefed by officials. The prime minister said the government had offered "any & all assistance needed."
Philippe Couillard, Québec's premier, termed the shooting a "terrorist act". He had earlier referred to it as "barbaric violence" before expressing solidarity with the victims' families.
"Quebec categorically rejects this barbaric violence. Our solidarity is with the victims, the injured and their families," the premier said in a second tweet. "We unite against violence. Solidarity with Muslim Quebecers."
Ralph Goodale, the public safety minister, said on Twitter Sunday that he is deeply saddened by the loss of life. His office says no motive has been confirmed.
The mayor of Gatineau, Quebec near Canada's capital of Ottawa, said there would be increased police presence at mosques around his city following the attack.
The New York Police Department said it was stepping up patrols at mosques and other hours of worships in its city.
The NYPD issued a statement on Sunday night saying Critical Response Command personnel had been "assigned to extended tour coverage" at certain mosques.
"NYPD is providing additional protection for mosques in the city. All New Yorkers should be vigilant. If you see something, say something," Bill de Blasio, New York City mayor, said on Twitter.
"Why is this happening here? This is barbaric," said Mr Yangui.
Mr Yangui, who was not inside the mosque when the shooting occurred, said he got frantic calls from people at evening prayers. He did not know how many were injured, saying they had been taken to different hospitals across Quebec City, Reuters reported.
Mosque has been targeted before
Zebida Bendjeddou, who left the mosque earlier on Sunday evening, said the centre had received threats.
"In June, they'd put a pig's head in front of the mosque. But we thought: 'Oh, they're isolated events.' We didn't take it seriously. But tonight, those isolated events, they take on a different scope," she said.
Ms Bendjeddou said she had not yet confirmed the names of those killed, but added: "They're people we know, for sure. People we knew since they were little kids."
Incidents of Islamophobia increased in Québec in recent years amid a political debate over banning the niqab, or Muslim face covering. In 2013, police investigated after a mosque in the Saguenay region of Québec was splattered with what was believed to be pig blood.
In the neighboring province of Ontario, a mosque was set on fire in 2015, a day after an attack by gunmen and suicide bombers in Paris.
By: Chiara Palazzo
Source: Telegraph.co.uk