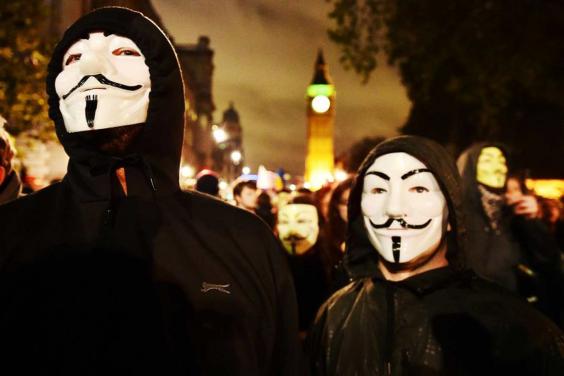 Central London erupted into anarchic scenes as riot police attempted to disperse the crowds at the end of the Million Mask March.
Thousands of people descended on central London for the Million Mask March which saw police make over 50 arrests.
The march started at Trafalgar Square. Protesters held flares and chanted "Whose streets? Our Streets!" as they made their way to Westminster.
The protest began peacefully, with several participants climbing the base of Nelson's column and chanting the slogan "one solution, revolution".
The police beamed a message in green letters onto a building in Parliament Square, which read: "Please observe Public Order Act restrictions. Failure to comply may result in arrest and prosecution. Officers may require you to remove facial covering. Failure to comply is an offence."
Police imposed conditions on the march, limiting it to a three-hour period between 6pm and 9pm on a prescribed route between Trafalgar Square and Whitehall. However, hundreds of activists refused to leave after 9pm, sparking intervention from riot police.
As officers tried to make arrests, they were charged at by protesters furiously shouting of "f*** the police" and "police brutality".
Several glass bottles were thrown as police escorted another protester away as pockets of aggression moved sporadically around Trafalgar Square.
Scotland Yard said there had been 53 arrests, including three for possession of an offensive weapon, 14 for drugs and two for the non-removal of a face mask.
Images and video of the march show fireworks and flares being let off from the crowds, and some were reportedly thrown at people.
Clad in Guy Fawkes masks, thousands of supporters of Anonymous, the anarchic hacking collective, carried placards as they made their way through the Capital while scores of police officers maintained a tight perimeter around them.
"Whilst the majority of those taking part were peaceful, there were pockets of disorder and a number of fireworks thrown which thankfully did not result in injury," Scotland Yard said.
Commander BJ Harrington of the Met's Public Order Command said: "I would like to commend my officers policing this challenging event for their professionalism and faultless co-ordination."
"I would also like to thank those participants who conducted themselves in a peaceful manner as well as Londoners and those visiting our city for their patience and tolerance."
"We facilitate hundreds of peaceful protests every year in London usually with the co-operation of the organisers. On this occasion although the organisers did not engage with police, the majority of protesters did adhere to the conditions imposed. Only a small minority chose to breach the conditions and engage in criminality."
The annual protest is one of many similar marches held worldwide on November 5. Its agenda is broadly anti-capitalism and pro-civil liberty.