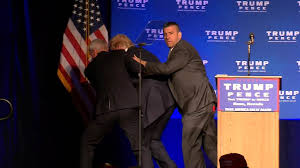 Donald Trump was hustled off the stage at a  rally n Reno, NV Saturday.  A Secret Service spokesperson said an "unidentified individual" shouted "gun" in the audience.
Panic engulfed the audience temporarily, but the situation is now under control.
Trump is safe and an investigation is underway.
This is a developing story.