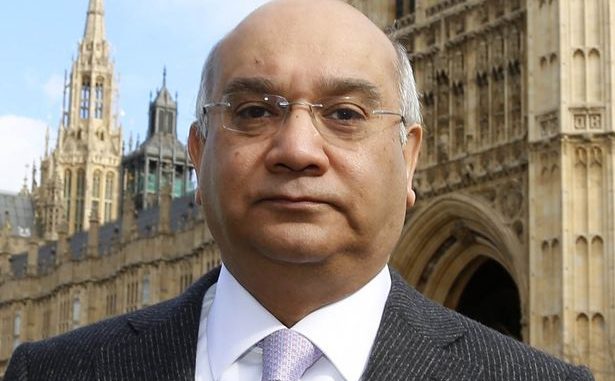 Keith Vaz, the former chair of the home affairs select committee, could be stopped from joining the justice committee following a rare parliamentary manoeuvre by a Conservative MP.
MPs will vote on Monday night whether to appoint the MP for Leicester East to the powerful committee, which oversees Britain's justice system.
Vaz, a former Labour minister, was forced to resign from the home affairs committee in September following claims that he paid for two male escorts at a time when the committee was investigating prostitution.
Claims that Vaz offered to pay for cocaine for the prostitutes are the subject of a complaint to the police and the House of Commons standards watchdog.
However, in a highly unusual move, the Conservative MP Andrew Bridgen has forced a vote on the appointment. It is believed to be the first time a vote on such an appointment has been held for decades.
Bridgen wrote to the Speaker, John Bercow, to lodge a formal complaint and told the Guardian he hopes it will lead to a debate between MPs.
"I don't think he's fit to be on that committee. He only resigned from the home affairs select committee eight weeks ago. It's completely inappropriate. He is still under investigation, it will bring parliament into disrepute," Bridgen said.
In addition to a possible police investigation, Vaz, 59, could face an inquiry by the parliamentary standards commissioner, Kathryn Hudson.
She has announced she will conduct an official investigation into Vaz's conduct and determine whether he breached the MPs' code of conduct, which covers public interest and whether damage was done to the reputation of the Commons.
The investigation will also examine whether he broke conflict of interest rules as chair of the home affairs committee.
Vaz could not be reached for comment.
Source: The Guardian
Update: More than 150 Conservative MPs have defeated the bid to stop Keith Vaz from being appointed to the Justice select committee while he is under investigation over an alleged sex scandal.
It is believed that the Whips office told Conservative MPs to vote for Mr Vaz in order to avoid setting a precedent of objecting to appointments, which could undermine the whole system.
Senior Cabinet members including the Home Secretary Amber Rudd and International Trade Secretary Liam Fox were among those MPs whole voted for him to join the committee.
Just 38 Labour MPs, Simon Danczuk, an Independent MP, and three DUP MPs also supported his nomination.
Mr Bridgen was prevented from delivering half of his speech amid a clash with the Speaker of the House John Bercow, after raising "allegations that (Mr Vaz) abused his position in public office".
Mr Bercow told the MP: "You will know I take advice on these matters and having treated of matters that are very much within the public domain until now, your speech has strayed from there and I have consulted on this matter and you are now treating of matters that are not in the same category. You must desist."