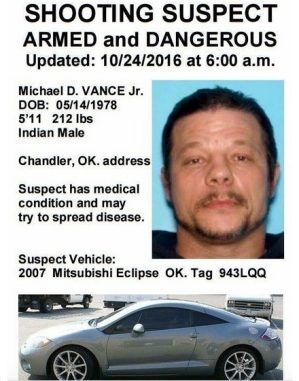 Oklahoma City, OK — Police and federal marshals in Oklahoma continued their search on Tuesday for a suspect thought to be wielding an AK-47.  Michael Vance who has shot six people including two police officers, is also wanted in connection to a double homicide.  Police said the suspect, 38 year old Vance, has a communicable disease that he "may attempt to spread."
Vance live streamed his escape on Facebook after wounding two officers and fleeing in their patrol car, saying that things were "going to be intense."
Vance has thus far been charged with two counts of murder, one count of unauthorized use of a motor vehicle and possession of a firearm after conviction of a felony, according to the court documents.  He was recently released from the Lincoln County Jail in Oklahoma on accusations of child sexual assault.
Investigators believe Vance live streamed two videos while fleeing, one from inside the police cruiser and another while inside another vehicle. In one of the videos, Vance appears in a blood-covered shirt and says he's been shot before showing a rifle on the seat next to him.
Vance then proceeded to a mobile home park, where police discovered the bodies of two of his relatives.  The affidavit describes their wounds consistent with attempts to sever one victim's head and the other's arm.
Vance may be driving a 2007 Mitsubishi Eclipse and he is considered armed and dangerous.