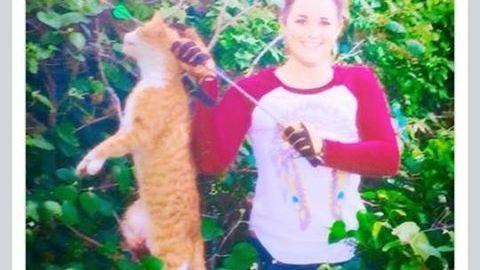 October 19, 2016
Kristen Lindsey, a Texas veterinarian who killed a domesticated cat named Tiger in April 2015 with a bow and arrow, then bragged about her first kill on Facebook, had her license to practice veterinary medicine in Texas suspended for one year by the Texas Board of Veterinary Examiners Tuesday.
While a Texas Grand Jury declined to charge Lindsey with animal cruelty, on Tuesday the Texas Board of Veterinary Medical Examiners finally took action, however ineffective it may be.  The Board suspended Lindsey's license for one year, adding four years probation, 17 hours of continuing education and six hours of animal welfare training, according to KVUE-TV in Austin.
Lindsey was fired from her job at a Texas veterinary clinic shortly after she posted the photo online with the caption, "My first bow kill. The only good feral cat is one with a bow through its head! Vet of the year award…gladly accepted."
In the wake of Lindsey's post, several people came forward and claimed that the 'feral' cat Lindsey fatally shot with her bow and arrow was actually a family pet named Tiger.  They insisted that Tiger was the farthest thing from a feral tom cat you could find.  That he was just an outdoor cat who was loved and cared for by a family.  And, as it turns out, by a community of animal lovers, Trap/Neuter/Return (TNR) professionals, and ordinary people across the United States who could not imagine a veterinarian bragging about shooting a cat with a bow and arrow and saying that killing them is the only way to get rid of feral cats.
Lindsey has not had any imprint on social media in recent months.  It appears she has gone off the grid.
For more information about feral (wild/outdoor) cats and how to help them, please visit Alley Cat Allies at http://www.alleycat.org/resources/why-trap-neuter-return-feral-cats-the-case-for-tnr/.