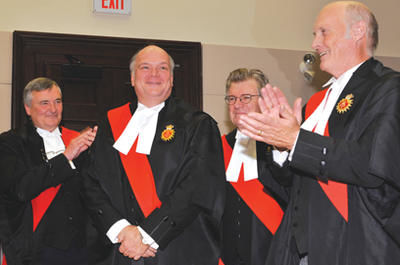 Nosakhare Ohenhen  served five years in prison for drug dealing. However, he gained a retrial and at the retrial was acquitted him of all charges.
Justice Michael Quigley slammed the Toronto police for racial profiling and suggesting they may have even planted the drugs found in Nosakhare Ohenhen Jaguar when he was stopped on August 21, 2008. Judge Quigley said he had "very serious concerns about systemic police misconduct here".
There was no cause to stop and search Ohenhen vehicle and Ohenhen's request to contact his lawyer "was totally and shockingly ignored by the police" for almost five hours.
Due to those "very serious and egregious charter violations," the judge threw out the evidence of the gun, cocaine and marijuana seized during his illegal arrest.
In his judgmen Justice Michael Quigley said "These are deeply troubling examples of police conduct dedicated to the 'end justifies the means principle,'"
Judge Quigley continued, "Ohenhen paid serious consequences for that conduct, having been sentenced and only released in 2014. That calls for strong judicial sanction."
"Mr. Ohenhen was detained without any legal basis to support it, and then, when he ran away … as he was entitled to do given no legal or articulable cause for his detention, he was chased, tackled, searched at least three times, two at the scene and once at 14 Division, and his vehicle was searched with no warrant and no grounds to support a need to do so,"
Judge Quigley accused the five police officers of colluding "to get their stories straight" to justify the unlawful stop and search and answered an estimated 100 questions with the same "I don't remember." Judge Quigley did not believe any of their testimony. "I have found it to be neither credible nor reliable, individually or in its totality."
In considering other evidence, Judge Quigley said "It … raises at least a strong suspicion, if not compelling evidence, that Mr. Ohenhen's claims that the police planted drugs on his person are true."
Nosakhare Ohenhen is now considering a civil lawsuit.