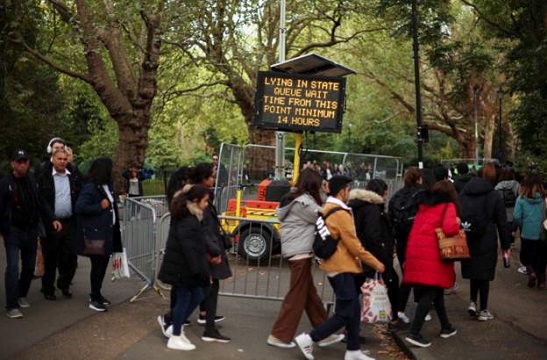 People who wish to view Queen Elizabeth II's lying-in-state have been told it is too late to set off now to see it.
With the event being closed at 06:30 BST on Monday, ahead of the funeral, organisers say they will have to close the queue at some point, so do not want people to travel and be disappointed.
At 20:00 BST, a minute's silence will be observed across the UK to mourn the death of Her Majesty.
Before that, the BBC will air a tribute from Camilla, the Queen Consort.
And she will join King Charles this evening as he hosts several world leaders, as up to 500 foreign royals, political leaders and other dignitaries have already flown into the UK for Monday's funeral at 11:00 BST.
Many of those foreign guests will also take the opportunity of paying their respects to the Queen's coffin at Westminster Hall during the day.
On the final full day of the Queen's lying-in-state, the waiting time in the queue was estimated to be 13 hours, meaning that based on those times anyone joining now may be among the last to see the coffin overnight.
In a statement, the culture department said "a decision will be taken later on when entry to the queue will close as it reaches final capacity".
In her TV tribute, Camilla says the Queen "carved her own role" when she took on the role as a time when the world was dominated by men.
The pre-recorded interview will be broadcast on BBC One, as part of an hour-long programme called Eve of the State Funeral, which will lead into the national silence.
In the interview, Camilla recalls the Queen's "wonderful blue eyes" and her "unforgettable smile".
With final preparations ongoing for Monday's funeral, the government has compiled a list of screenings for those wishing to see the ceremony in a public setting.
The Chief of Defence Staff, Admiral Sir Tony Radakin, spoke to BBC One's Sunday with Laura Kuenssberg programme about the vast number of people who are working to make sure the state funeral goes smoothly.
"It is enormous, it's actually over 10,000 people," Adm Radakin said. That will include up to 6,000 members of the Army, Royal Navy and RAF taking part in Monday's procession in London and Windsor, who have been taking part in overnight rehearsals.
Former Archbishop of York John Sentamu also spoke to Laura Kuenssberg on Sunday. He recalled a touching letter the Queen wrote to him four weeks after Prince Phillip's burial.
According to Lord Sentamu, in the letter she thanked him for the flowers and prayers, and said: "When you are grieving someone you deeply love, it isn't easy when you are having to do it in public."
US President Joe Biden, French President Emmanuel Macron and New Zealand Prime Minister Jacinda Arden are among the world leaders expected to be at a formal state reception hosted by King Charles at Buckingham Palace on Sunday evening, which some other members of the Royal Family are expected to attend.
Beforehand, the King will hold audiences at Buckingham Palace. He will meet British Prime Minister Liz Truss at 12:15 and prime ministers of Antigua and Barbuda, Papua New Guinea and Tuvalu at 13:00.
Events and moments of reflection taking place across the UK during the day include an open-air prayer service at the Kelpies, near Falkirk, where 96 lanterns – one for each year of Her Majesty's life – will be lowered into the pool of reflection at the foot of the Queen Elizabeth II Canal from 19:30. Wreaths will also be laid on the water.

Source: bbc.co.uk