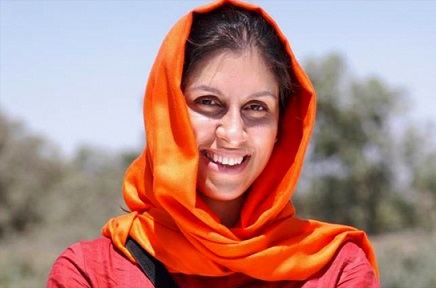 Nazanin Zaghari-Ratcliffe has been sentenced to a year in prison after being found guilty of propaganda activities against the regime in Iran.
The British-Iranian charity worker was also given a one-year ban from leaving the country.
The prime minister said the UK would "redouble" efforts to free her.
Confirming the sentence, her husband Richard Ratcliffe told the BBC the court's decision was a bad sign and "clearly a negotiating tactic" by the Iranian authorities – who are in the middle of discussions over the country's nuclear activities.
She has not been taken to prison yet, her husband said, and plans to appeal.
Prime Minister Boris Johnson said the UK would "redouble our efforts" to secure her release, and was working with the US to achieve this.
"I don't think it is right at all that Nazanin should be sentenced to any more time in jail," he said.
"I think it is wrong that she is there in the first place, and we will be working very hard to secure her release from Iran, her ability to return to her family here in the UK – just as we work for all our dual national cases in Iran."
Her MP, Tulip Siddiq, said the sentence was "absolutely devastating news and shocking that her husband was only just notified", describing the charges as "another abusive use of her as a bargaining chip".
Mrs Zaghari-Ratcliffe was first jailed in Iran in 2016 on spying charges, which she has always denied.
Her daughter Gabriella, who was with her mother in Tehran when she was arrested, returned to the UK in 2019 to start school.
Mrs Zaghari-Ratcliffe was moved from prison last year due to the coronavirus crisis and held under house arrest in Tehran until March, when her ankle tag was removed.
But she returned to court later that month to face the latest propaganda charges.
A medical evaluation carried out for the human rights charity Redress found she had post-traumatic stress disorder, depression and obsessive stress disorder due to "traumatising experiences in the prisons of Iran" and the uncertainty about her fate.
She told doctors that during solitary confinement at the beginning of her sentence in 2016, she was interrogated – often while blindfolded – for eight to nine hours a day.