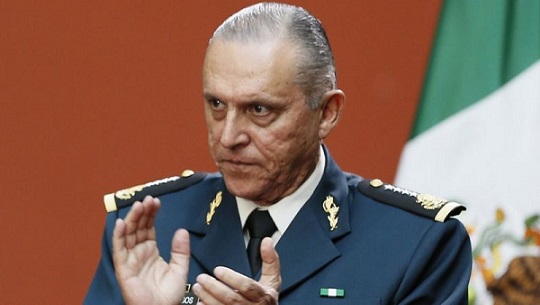 The US is to drop its charges against a Mexican former minister accused of drug trafficking and laundering money.
Gen Salvador Cienfuegos Zepeda – who was Mexico's defence secretary from 2012 to 2018 – was arrested at Los Angeles airport last month.
Prosecutors said he had links to the "extremely violent" H-2 drug cartel.
But on Tuesday the US Department of Justice said it would seek to dismiss the charges so he could be investigated and possibly charged under Mexican law.
The 72-year-old pleaded not guilty to the charges last month. He was due to appear in US federal court in New York on Wednesday before the news broke.
US Attorney General William Barr and Mexico's Fiscalía General Alejandro Gertz Manero issued a joint statement about Gen Cienfuegos on Tuesday.
It said the US had taken the decision to seek dismissal of charges "in recognition of the strong law enforcement partnership between Mexico and the United States, and in the interests of demonstrating our united front against all forms of criminality".
Gen Cienfuegos served under former President Enrique Peña Nieto. As the most senior member of Mexico's armed forces he played a major role in the country's war on drugs, which has claimed tens of thousands of lives.
BBC Mexico correspondent Will Grant says there were accusations of complicity between the state and the country's powerful drug cartels throughout Mr Peña Nieto's presidency.
Source: bbc.co.uk