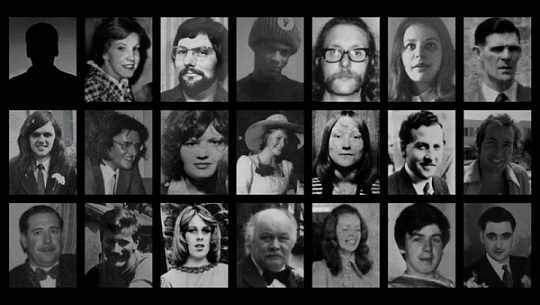 A man has been arrested in connection with the deaths of 21 people in the 1974 pub bombings in Birmingham.
The blasts at the Mulberry Bush and Tavern in the Town pubs on the night of 21 November also injured 220 people.
Officers from Counter Terrorism Policing West Midlands, working with the Police Service of Northern Ireland, arrested the 65-year-old at his home in Belfast.
He was detained under the Terrorism Act and his home is being searched.
The 65-year-old will be interviewed under caution at a police station in Northern Ireland, police said.
Saturday will mark the 46th anniversary of the bombings.
Fresh inquests last year ruled the victims were unlawfully killed, but did not establish who was responsible.
Those hearings came about after years of campaigning by families for a full account into what happened that night.
Last month, Home Secretary Priti Patel announced she would be considering the case for a public inquiry into the bombings.
Six men – Hugh Callaghan, Paddy Hill, Gerard Hunter, Richard McIlkenny, William Power and John Walker – were wrongly jailed for life in 1975 for the bombings.
The group, who became known as the Birmingham Six, had their convictions quashed in the appeal court and they were released in 1991.
Julie Hambleton, whose 18-year-old sister Maxine died in the bombings, called the arrest "the most monumental event" in the criminal investigation since the quashing of those convictions.
She said she broke down in tears when she was told by a senior West Midlands Police officer of the arrest.
"I couldn't speak, I was just inconsolable and was just looking at the picture of Maxine," she said.
"It's welcome news. It's overwhelming news. It's tangible progress."
Source: bbc.co.uk