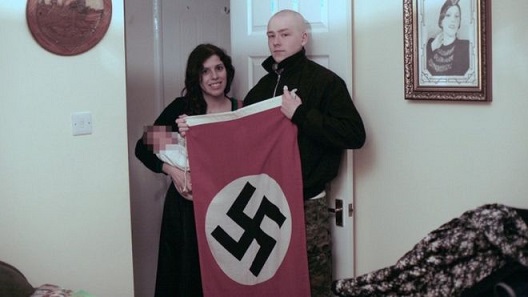 A couple who named their baby after Adolf Hitler have been found guilty of being members of a banned terrorist group.
Adam Thomas, 22, and Claudia Patatas, 38, from Banbury, along with Daniel Bogunovic, 27, from Leicester, were charged with being in National Action.
Birmingham Crown Court heard the couple gave their child the middle name Adolf in honour of the Nazi leader.
Jurors saw images of Thomas in Ku Klux Klan robes while cradling his baby.
The Neo-Nazi terrorist group National Action, founded in 2013, was outlawed under anti-terror legislation three years later after it celebrated the murder of Labour MP Jo Cox.
Prosecutors said the East Midlands chapter of the group "shed one skin for another" and "rebranded" after being banned.
Admitted racism
Prosecutors said the case was about "a specific type of terror… born out of fanatical and tribal belief in white supremacy".
Thomas told the court that the pictures showing him wearing KKK clothing were "just play", but he admitted being a racist.
Thomas was also found guilty of having a copy of terrorist manual the Anarchist Cookbook.
Barnaby Jameson QC, prosecuting, said a deleted Skype log was recovered from Thomas's laptop.
He said the messages sent between two parties spoke of National Action being "destroyed", with its leaders agreeing to disband with "no attempt at revival".
Reading from the log, Mr Jameson said: "But the Midlands branch of NA, which is just 17-20 of us, have decided to ignore this and we've renamed ourselves the Thule Combat League.
"Traitors. Midlands will continue the fight alone."
Jurors reached unanimous verdicts after 12 hours of deliberating.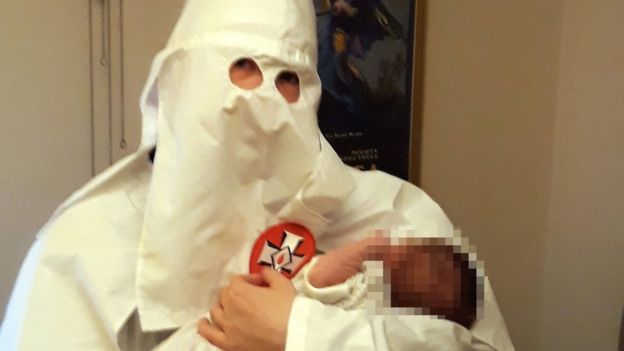 Source: bbc.co.uk