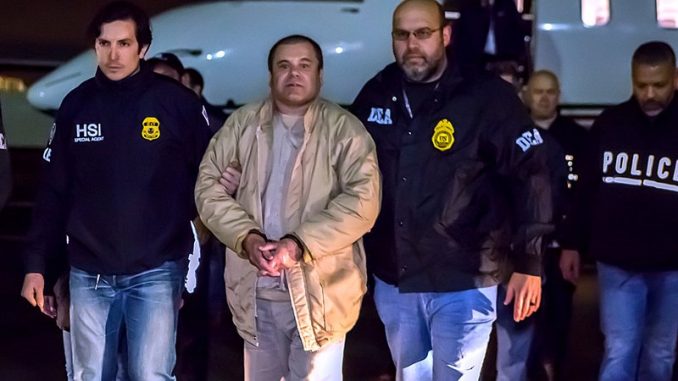 Prosecutors and defence lawyers are set to deliver opening statements in the New York trial of Joaquín 'El Chapo' Guzmán, one of the world's most notorious criminals accused of spending a quarter of a century smuggling cocaine into the United States.
Twelve jurors and six alternates were selected last week from a pool of dozens that saw several dismissed because they feared for their lives if they were impanelled and another who suffered a panic attack.
The seven women and five men will determine whether Guzmán is guilty on 11 trafficking, firearms and money laundering charges during what is expected to be a more than four-month trial.
Their names will be kept anonymous under security protocols.
They will be partially sequestered and escorted to and from court every day by armed US Marshals.
Guzmán is accused of leading the Sinaloa cartel and turning it into the largest criminal organisation on the planet. He was extradited to the United States in 2017 after twice escaping from prison in Mexico.
The 61-year-old is considered the world's largest drug trafficker since the death of Colombia's Pablo Escobar.
Prosecutors say that from 1989 to 2014, the cartel smuggled 154,626kg of cocaine into the United States, as well as heroin, methamphetamine and marijuana, raking in $14bn.
Last week, Judge Brian Cogan rejected a request from Guzmán to meet his wife Emma Coronel, shortly before opening statements, ruling that it was too risky.
The defendant is banned from communicating with or having any physical contact with the 29-year-old mother of his seven-year-old twin girls.
Judge Cogan said the requested hug violated security procedures designed to prevent Guzmán from "coordinating any escape from prison or directing any attack" on cooperating witnesses.
Guzmán twice escaped from prison in Mexico, once hidden in a laundry cart and the second time slipping down a tunnel that reached his prison shower.
US prosecutors have spent years piecing together a case that they hope will end with Guzmán spending the rest of his life behind bars in a maximum-security US prison.
He has pleaded not guilty, but the government has presented so much evidence – more than 300,000 pages and at least 117,000 recordings – that the defence complained they have not had time to review it all.
More than a dozen of the several hundred witnesses expected to testify are in witness protection programmes or are already in jail, housed in special wings to protect them from reprisals.
Guzmán has been held in solitary confinement since Mexico extradited him in January 2017, one day before Donald Trump took office. He spends 23 hours a day in his cell.
The only visitors he is allowed are his lawyers and daughters, from whom he is separated by thick glass.
Source  www.rte.ie