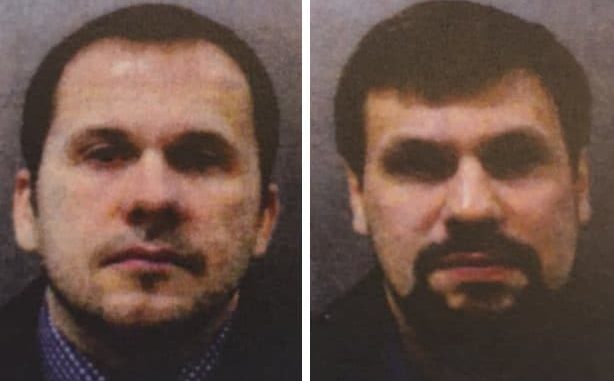 Two Russians have been named as suspects and charged over the Salisbury poisonings, but British authorities are unable to get them out of Russia.  Prosecutors say there is enough evidence to charge Alexander Petrov and Ruslan Boshirov with offences including conspiracy to murder over the Novichok attack on ex-Russian double agent Sergei Skripal and his daughter Yulia in March.  But the Crown Prosecution Service said it will not be applying to Russia for the extradition of the two men as Vladimir Putin's country does not allow the extradition of its own nationals. A European Arrest Warrant has been obtained.  As the news broke, the Russian foreign ministry tweeted a video mocking Theresa May's dancing in South Africa. It later said that the names released by Britain "do not mean anything to us".  Theresa May will make a statement in the Commons after Prime Minister's Questions on Wednesday afternoon to update MPs on Salisbury.  Scotland Yard confirmed that Novichok was brought into the UK in a bottle of Ninna Ricci Premier Jour perfume, which had been designed as a specially made poison applicator.
Neil Basu, Assistant Commissioner of the Metropolitan Police, said it is likely the suspects were travelling under aliases and that Petrov and Boshirov are not their real names.  He said the pair, who are believed to be aged around 40, had been to the UK before on the same passports and had "travelled extensively on them in the past".  They arrived at Gatwick Airport on March 2, before travelling to Salisbury. They left Britain from Heathrow on March 5 on an Aeroflot flight.  Releasing a series of CCTV images of the men in London, Mr Basu asked witnesses to come forward to establish their real identities.
They stayed in the City Stay Hotel, in Bow, east London, during their stay in the UK. Officers searching their room on May 4 discovered traces of Novichok, but Scotland Yard said there is no risk to other guests.  The announcement will deepen the rift between Britain and Russia, after the nerve agent attack sparked a wave of diplomatic expulsions by the UK and its allies.
British authorities believe that several Russians are thought to have been involved in the attempted murders – which also led to 44-year-old Dawn Sturgess becoming an indirect casualty of the poisoning.  A small amount of Novichok is thought to have been used in liquid form to target the Skripals in March.  It is understood that the suspected perpetrators were identified through CCTV footage that was cross-checked with border entry data, according to reports.
The UK Government has insisted it is "highly likely" Russia was behind the attack, but Moscow has repeatedly denied responsibility.  Ms Sturgess died in July, with authorities believing she and boyfriend Charlie Rowley picked up a discarded vial containing the substance. The pair fell ill on June 30 in Amesbury, near Salisbury. Mr Rowley remains seriously ill in hospital.  Police believe it is linked to the poisoning of the Skripals, who were discovered slumped on a bench on March 4 and have since been discharged from hospital.
Same toxic chemical killed Dawn Sturgess
Independent investigators have confirmed the nerve agent used to poison Sergei and Yulia Skripal was the same toxic chemical that killed Dawn Sturgess in Amesbury three months later.  The Organisation for the Prohibition of Chemical Weapons (OCPW) said its team had confirmed the findings of the UK, which concluded in July that the substance used in Amesbury was Novichok.  Ms Sturgess and her partner Charlie Rowley fell ill at his home in Amesbury, near Salisbury, on June 30.  Ms Sturgess, a mother-of-three, died in hospital eight days later having never regained consciousness.
It is believed they were exposed to a military grade nerve agent from a perfume bottle discarded by those responsible for the attack on the Skripals.
The OPCW on Tuesday evening said: "The results of the analysis by the OPCW designated laboratories of environmental and biomedical samples collected by the OPCW team confirm the findings of the United Kingdom relating to the identity of the toxic chemical that intoxicated two individuals in Amesbury and resulted in one fatality.
"The toxic chemical compound displays the same toxic properties of a nerve agent.
"It is also the same toxic chemical that was found in the biomedical and environmental samples relating to the poisoning of Mr Sergei Skripal, Ms Yulia Skripal, and Mr Nicholas Bailey on March 4 in Salisbury."
Russia accuses UK of keeping Skripals in 'isolation'
Six months on from the nerve agent attack in Salisbury, Russia has reiterated its belief that the UK is flouting international law by apparently keeping the pair from having contact with embassy officials.
A statement released by the Russian Embassy on Tuesday referred to the circumstances of the March attack as "obscure" and accused British authorities of keeping the Skripals in isolation ever since their release from hospital.
It said: "They remain out of the public eye at an unknown location, unable to communicate freely with their relatives, friends, journalists or Russian officials, deprived of the freedom of movement."
Video: Yulia Skripal speaks of how she survived poisoning
T
he statement claimed that authorities in the UK had refused to allow the embassy to have direct contact with the former spy and his daughter "in order to verify their actual health situation, the conditions in which they are held and, most importantly, to ascertain to which extent their isolation is voluntary".
The embassy added that it had sent more than 70 notes and letters to the Foreign Office, Home Office and police since the poisoning but had had nearly all of its queries ignored.
Following her release from hospital Ms Skripal said she was "grateful for the offers of assistance from the Russian Embassy but at the moment I do not wish to avail myself of their services".
Convulsions, paralysis and respiratory failure: How Novichok attacks nervous system
Novichok is a group of nerve agents which are more potent and lethal than VX or sarin. They are made of two separate non-toxic substances that work as a nerve agent when brought together.
They work by attacking the nervous system and stopping chemical messages from being transmitted around the body.
This causes the heart to slow down and the airways to become constricted, which can lead to suffocation or brain damage.
Breathing is disrupted as the muscles struggle to contract normally, while fluid may build up on the lungs. Symptoms can start within seconds or minutes of being exposed and include convulsions, paralysis and respiratory failure.
Video: What Novichok is – and how it affects the body
N
erve agents including Novichok can be inhaled as a fine powder, absorbed through the skin or ingested.
Experts said medics would probably have relied on three chemicals to treat the Skripals after they were found unconscious on a park bench in Salisbury in March.
Paramedics are likely to have used diazepam to prevent convulsions, while they worked out what was responsible for the symptoms.
Doctors may later have administered atropine, which counteracts the effect of the nerve agent, maintaining heart rate and stopping the secretion from entering the lungs.
A
n oxime, which pulls the nerve agent off the enzyme, could also have been used to help the acetylcholinesterase enzyme start functioning again.
The patient's body itself will also work to reproduce the blocked enzyme and this process will be accelerated if they have received a strong dose of nerve agent.
When Mr Skripal and his daughter were discharged, the hospital warned that they may require further treatment in the future.
Skripal 'briefed intelligence officers in Europe'
British security services allegedly sent Col Skripal to Eastern Europe to share Russian spy secrets, reports Victoria Ward.
The former Russian spy is said to have travelled widely, offering information on Russian espionage to security officers in both Prague and Estonia.
Such briefings have been cited as a possible motive for Russia's attempt to kill both Col Skripal and his daughter, Yulia.
A visit to Prague in 2012, when he reportedly provided information about Russian espionage methods and the activities of his former colleagues operating in Europe, was described as "beneficial" and his information, although dated, was deemed valuable.
H
e arrived in the city shortly after his wife, Lyudmila, died. But although he was grieving, he was in "good spirits," drinking with intelligence officers and joking that his doctor had prescribed whiskey for high blood pressure.
One agent suggested that although he was in poor health, his mind was sharp.
In fact, Col Skripal was so helpful that Czech intelligence officers continued to meet with him, reportedly making several trips to Britain in subsequent years.
The former spy is said to have visited Estonia as recently as June 2016, in which "very sensitive information" was discussed with a "select group of intelligence officers". MI6 helped facilitate the meeting, it is claimed.
Revealed: The Moscow weapons lab that made the deadly Novichok nerve agent  https://www.telegraph.co.uk/news/2018/03/13/just-factory-moscow-weapons-lab-made-novichok-nerve-agent/
Sergei Skripal: The 'spy with the Louis Vuitton bag' allegedly poisoned during quiet retirement in Salisbury  https://www.telegraph.co.uk/news/2018/03/05/sergei-skripalthe-spy-louis-vuitton-bag-allegedly-poisoned-quiet/