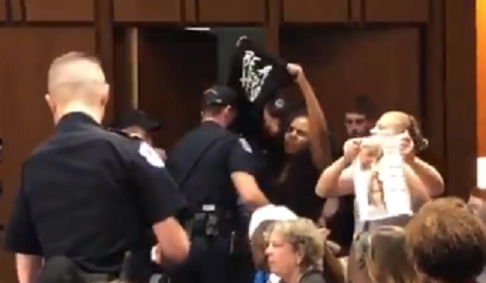 The confirmation hearing for US President Donald Trump's Supreme Court nominee has descended into "mob rule", a Republican senator said.
John Cornyn of Texas spoke out as Democrats demanded an adjournment and two dozen protesters were dragged out of the room in chaotic scenes.
Brett Kavanaugh faces four days before the Senate Judiciary Committee.
If approved, he would be expected to tilt the court's balance to the right.
Minutes after Mr Kavanaugh, 53, entered the committee rooms on Tuesday, the hearing was disrupted by angry shouts from members of the public and lawmakers alike.
The mostly female demonstrators shouted out that Mr Kavanaugh would allow President Trump to pardon himself.
Others claimed the judge would let people with pre-existing medical conditions be stripped of medical coverage.
"This is a travesty of justice!" shouted one. Another cried: "Our democracy is broken!"
Amid the almost continuous disruption, Texas Republican John Cornyn said it was "the first confirmation hearing for a Supreme Court justice I've seen basically according to mob rule".
Judiciary Committee Chairman Chuck Grassley of Iowa bridled at the suggestion he had lost control of the proceedings.
The Trump administration has refused to release thousands of documents about the conservative federal appeals court judge's work for President George W Bush.
The White House cited "constitutional privilege".
Democrats are demanding they be allowed to review the 100,000 documents about Mr Kavanaugh's record.
They are also up in arms that some 42,000 documents were released to the committee just on the eve of the hearing.
Senator Cory Booker of New Jersey said they would have had to read 7,000 pages an hour overnight just to review the files shared on Monday evening.
But the panel chairman refused to delay the process.
Vermont's Democrat Patrick Leahy said it was the "least transparent vetting for any Supreme Court nominee I have ever seen".
But Republican Senator Orrin Hatch dismissed the concerns raised about the judge as "ridiculous".
Democrats have warned that Mr Trump's choice will usher in a more socially conservative approach to abortion, gay rights and gun control.
Senior Democrat Dianne Feinstein questioned in her opening remarks on Tuesday whether the nominee would leave the landmark Roe v Wade abortion law untouched if confirmed.
The nine-justice court has until now been balanced between conservatives and liberals, with Anthony Kennedy considered the "swing vote". He retired in July.
They are also concerned about his argument in a 2009 legal article that a sitting president should be immune to prosecution.
Republicans have a slim majority in the 100-seat upper house. They can confirm Mr Kavanaugh if they stay united. So far, there are no signs of Republican defections.
Not all Democrats have said they will oppose Mr Kavanaugh, and several may even support his nomination.
The Senate is likely to vote on confirmation by the end of the month. The court begins its next term in October.
More than 20 witnesses are being called for the coming days of hearings.
A resident of the wealthy Washington suburb of Chevy Chase, Mr Kavanaugh studied law at Yale.
He worked under special counsel Kenneth Starr in his investigation into President Bill Clinton's relationship with intern Monica Lewinsky in the 1990s.
Under George W Bush, he served as deputy White House counsel and, from 2003-06, as Mr Bush's staff secretary.
A Catholic, he has been a US Court of Appeals judge in Washington for the past 11 years.
Source: bbc.co.uk