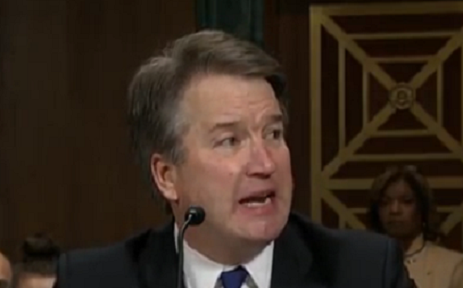 A California man will face a charge of attempted murder after his arrest near the home of Supreme Court Justice Brett Kavanaugh on Wednesday.
Nicholas John Roske, 26, had planned to murder a Supreme Court justice and was armed with a pistol and tactical knife, court documents said.
Protection for the justices has been increased ahead of an expected controversial abortion rights ruling.
Mr Roske was taken into custody around 1 am local time (6:00 BST).
According to an affidavit filed in US District Court, a man – later identified as Mr Roske – was spotted by two US Deputy Marshals while getting out of a taxicab in front of the home of a Supreme Court Justice.
Carrying a suitcase and a backpack Mr Roske then turned to walk down the street.
Soon after, local emergency services took a call from a man who identified himself as Mr Roske.
Mr Roske said he was having suicidal thoughts, had a gun, and had come from California to "kill a specific United States Supreme Court Justice". Local police officers were sent to the justice's home and arrested Mr Roske.
A spokesperson for the court confirmed it was Justice Kavanaugh's home.
While in custody, Mr Roske said he was "upset" about the leaked Supreme Court document on abortion as well as the recent mass shooting in Uvalde, Texas, according to the affidavit.
He said he believed Justice Kavanaugh would issue rulings that would loosen gun control regulations.
Mr Roske was found to have a Glock 17 pistol, pepper spray, zip ties, a hammer, screwdriver, crow bar and duct tape in his possession.
If convicted, Mr Roske faces a maximum sentence of 20 years in federal prison for attempted murder of a United States judge, though actual sentences for federal crimes are usually less than the maximum penalties.
He is to appear in court on Wednesday afternoon.
A White House spokeswoman said President Biden "condemns" the action of the individual who threatened the justice.
In May, a leaked draft decision from the top court in the US suggested it would overturn Roe v Wade – the landmark 1973 case that guaranteed abortion access across the US.
The draft ruling spurred protests nationwide, including some peaceful demonstrations outside the homes of some of the nine justices on the court.
Last month, a group of about 100 people marched from the home of Justice Kavanaugh to Chief Justice John Roberts' home nearby. Both justices are conservative and seen as supportive of curtailing abortion rights.
The protests led Washington lawmakers to introduce legislation to Congress that would increase protections for Supreme Court justices.
In the aftermath of the draft ruling leak last month, the US Marshals Service has been providing "around-the-clock security" outside the homes of all nine justices, according to the Department of Justice.
Source: bbc.co.uk