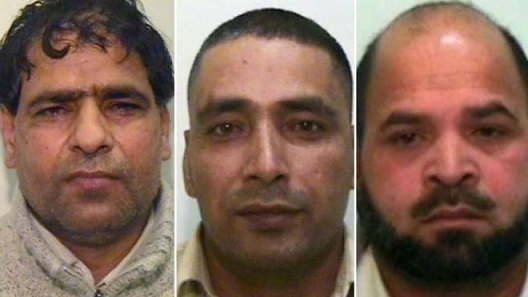 Three members of a notorious grooming gang will be stripped of their British citizenship following a court ruling.
Abdul Aziz, Adil Khan and Qari Abdul Rauf were among nine men jailed for offences including the rape and trafficking of girls as young as 13 in Rochdale, Greater Manchester, in 2012.
Theresa May, then Home Secretary, began the process in 2015 by ruling that the men should not remain British.
Court of Appeal judges rejected a legal challenge from the men.
The men, who are all of Pakistani nationality, claimed the decision violated their human right to family life.
But senior judges ruled that stripping the men of their citizenship was "conducive to the public good".
Lord Justice Sales said the men were motivated by "lust and greed" which amounted to "serious organised crime".
The decision paves the way for the government's plan to deport them to Pakistan after they were released from jail.
If deportation orders are signed against the men they could have a further legal right to appeal, which could take months.
The judge who jailed the men in 2012 said victims were "raped callously, viciously and violently".
"In some cases, they were driven round Rochdale and Oldham to be made to have sex with paying customers," he said.
"All the men treated the girls as though they were worthless and beyond all respect."
Aziz, Kahn and Rauf were given jail sentences between six and nine years but have since been released on licence.
The men lost a previous legal battle to maintain British citizenship in 2017.
Source: bbc.co.uk