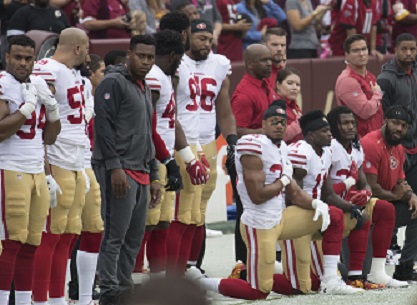 new policy.
The American football league said players who do not stand for the Star-Spangled Banner can stay in the locker room until it has been performed.
The NFL also vowed to "impose appropriate discipline on league personnel who do not stand and show respect for the flag and the Anthem."​
Players said the protests were against policy brutality of African Americans.
"It was unfortunate that on-field protests created a false perception among many that thousands of NFL players were unpatriotic," said NFL Commissioner Roger Goodell in a statement accompanying Wednesday's new policy.
"This is not and was never the case. This season, all league and team personnel shall stand and show respect for the flag and the Anthem.
"Personnel who choose not to stand for the Anthem may stay in the locker room until after the Anthem has been performed."
"All team and league personnel on the field shall stand and show respect for the flag and the Anthem," the first provision of the new policy reads.
The policy also includes the provision that individual clubs can develop their own rules – that abide by the new principles – about how to handle personnel who do not wish to stand.
The statement comes a day after NFL teams pledged $90m towards social justice initiatives, under an agreement reached with all 32 teams in the league.
The debate over the kneeling protests began in 2016, when San Francisco 49ers quarterback Colin Kaepernick refused to stand for the anthem.
His actions sparked similar demonstrations by players across the NFL.
President Donald Trump was highly critical of the protests, calling them "disgraceful" and unpatriotic. He also urged the players to be fired.
US Vice-President Mike Pence also left an NFL game because players from Mr Kaepernick's team knelt during the anthem.
Source: bbc.co.uk