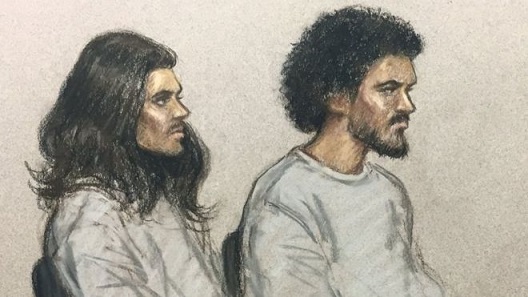 A London man has denied plotting to kill Theresa May with a backpack bomb.
Naa'imur Zakariyah Rahman, 20, from Finchley is accused of preparing a terror attack targeting Downing Street.
He is also charged with assisting Mohammad Aqib Imran, 22, from Birmingham, who allegedly tried to join the Islamic State group and is charged with preparing acts of terror.
Both men appeared at the Old Bailey via video-link from Belmarsh Prison on Friday. They deny the allegations.
The two men were arrested in counter-terrorism police raids in London and Birmingham in November last year.
Mr Rahman, who faces a charge of preparing acts of terrorism in relation to the alleged Downing Street plot, is accused of carrying out reconnaissance of the target location, recording a pledge of allegiance and buying a rucksack.
It is alleged he dropped off the rucksack and a jacket to be fitted with an improvised explosive device and collected it "with a view to committing attacks against persons in the UK".
Mr Rahman also faces a separate charge of assisting Mr Imran in allegedly preparing acts of terror.
The charge says Mr Rahman recorded a sponsorship video which would have allegedly helped Mr Imran to be accepted into IS.
Meanwhile, Mr Imran, of Sparkbrook, is accused of possession of the sponsorship video and trying to get hold of a fake passport.
He also researched terror publications and downloaded a copy of How To Survive In The West – A Mujahid's Guide 2015, it is alleged.
The judge, Mr Justice Haddon-Cave, remanded the defendants in custody.
The pair will stand trial on 18 June.
Source: bbc.co.uk