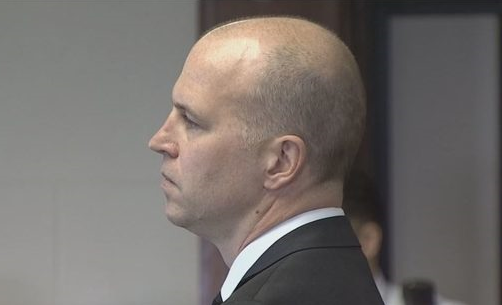 A Boston tax agent accused of handcuffing a young intern in his car, putting a gun in her mouth and raping her last summer has pleaded not guilty.
Prosecutors claim James Clarke invited a 21-year-old woman for drinks and bought her "enough drinks to intoxicate her" before the alleged assault.
The 44-year-old's lawyer told the court during his arraignment on Thursday that the incident was consensual.
He was released without a bail payment pending his next court appearance.
Mr Clarke, an Internal Revenue Service (IRS) agent in the criminal investigations office in Boston, pleaded not guilty in Suffolk Superior Court to aggravated rape, rape, indecent assault and battery, strangulation, and assault and battery with a dangerous weapon.
The tax agent allegedly went for drinks after work with the young woman on 26 July, 2017 before taking her to his government-issued car, prosecutors say.
He then allegedly "handcuffed the 21-year-old victim while parked in his IRS-owned vehicle in the Government Center garage, assaulted her with his service firearm, and subjected her to sexual acts against her will", said Jake Wark, a spokesman for the district attorney's office.
"One additional assaultive act occurred in the car outside South Station after Clarke had driven the victim there," Mr Wark's statement said.
The woman was left at South Station, where she called police and was taken to hospital.
The magistrate rejected the $10,000 (£7,000) bail requested by prosecutors and said Mr Clarke was not a flight risk since the allegations were nine months old.
The federal taxation agency declined to comment on the allegations against Mr Clarke.
"The IRS holds our employees to high standards, and we do not tolerate inappropriate behaviour," the agency said in a statement to CBS News local affiliate WBZ-TV.
"Although we are prohibited from commenting on specific employee personnel matters, the IRS thoroughly considers all the relevant facts involved in all instances of alleged misconduct and, if substantiated, takes appropriate disciplinary action, up to and including removal."
Mr Clarke is next due in court on 9 May for a pre-trial conference.
Source: bbc.co.uk