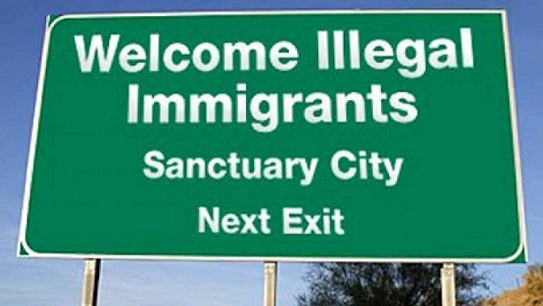 The US Department of Justice has filed a lawsuit against California over its laws that extend protections to people living in the US illegally.
The department said three state laws, which bar police from asking people about their citizenship status, are unconstitutional.
President Donald Trump has increased deportations of undocumented immigrant as part of a campaign promise.
California officials have vowed to fight the lawsuit.
"This is basically going to war against the state of California," Governor Jerry Brown responded.
His comments came an hour after US Attorney General Jeff Sessions visited the state to challenge its "sanctuary city" policies, which limits the assistance given to federal immigration authorities.
"This is a very aggressive act on the part of the Trump administration," Mr Brown said.
"I'm sure Donald will be tweeting his joy at this particular performance," he said of the attorney general's remarks.
Earlier on Wednesday Mr Sessions told a group of law enforcement officers that "California is using every power it has – and some it doesn't – to frustrate federal law enforcement."
"So you can be sure I'm going to use every power I have to stop them."
"Stop protecting lawbreakers," Mr Sessions said in the state's capital city.
"Open borders is a radical, irrational idea that cannot be accepted…The United States of America is not some 'idea' – it's a secular a nation-state," he added.
Mr Sessions and the justice department named the state of California, Governor Jerry Brown and California Attorney General Xavier Becerra in the lawsuit filed in federal court in Sacramento on Tuesday.
It is the first legal action against a state or local government over its immigration policies by Mr Sessions' justice department.
The lawsuit cites a provision of the US Constitution called the "Supremacy Clause", which states federal law overrules state laws.
One state law prevents workplace raids by restricting what information employers can share with immigration officials.
The justice department has threatened to cut off funding to jurisdictions which resist its policies and the US Immigration and Customs Enforcement (ICE) has said it planned to increase its presence in California.
In a tweet mimicking President Donald Trump's Twitter style, Governor Jerry Brown called the move a "political stunt".
California's state laws protecting people in the US illegally have been a direct response to Mr Trump's harsh immigration policies and promises.
Last week Mr Sessions called out the mayor of Oakland, California, who tipped off undocumented immigrants to an upcoming raid.
Mayor Libby Schaaf defended her warning while federal officials called her "irresponsible".
Both Mr Sessions and Mr Trump have blamed crime and gang violence on "sanctuary laws" protecting immigrants.
In the first month of his presidency, Mr Trump signed an executive order to revoke federal grant money from so-called "sanctuary cities" which refuse to deport undocumented immigrants.
Judges in Chicago, San Francisco, and other cities, have blocked the order.
Several other states including Colorado, Illinois, New Mexico, Oregon and Vermont have "sanctuary laws", according to the Center for Immigration Studies.
What is a 'sanctuary city'?
The term applies to cities in the US that have policies to limit the assistance given to federal immigration authorities
Officials in those areas, including local law enforcement, are not allowed to enquire as to an individual's immigration status in the course of their duties
It is not a legal term so the way it is implemented can vary, but the policies can be set in law or just part of local policing practices
The idea got traction in the 1980s after Los Angeles told its police force to stop questioning people solely to determine their immigration status, in a bid to encourage immigrant communities to work with police
More than 400 jurisdictions across the US, including New York, San Francisco, Boston, Chicago and Seattle, have enacted policies protecting undocumented immigrants
Critics say these policies undermine federal law enforcement efforts and encourage illegal immigration
Source: bbc.co.uk