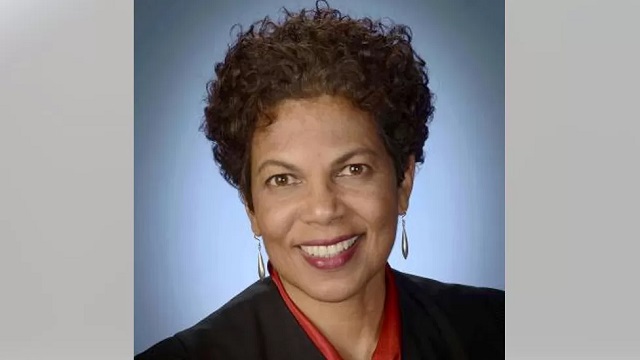 Donald Trump has asked the judge overseeing his federal election meddling case to step aside due to previous statements she made in court.
He said in a legal filing some past comments create a perception of bias against the former president.
The request for a recusal was filed to Judge Tanya Chutkan on Monday.
She is overseeing the case being brought by special counsel Jack Smith, who accuses Mr Trump of a conspiracy to overturn his 2020 election loss.
Mr Trump has pleaded not guilty to the charges.
The former president said last month that he planned to petition Judge Chutkan for a recusal.
The Monday filing does not expressly call the judge prejudiced against Mr Trump, but says certain statements she has made in her court "create a perception of prejudgment incompatible with our justice system".
"Although Judge Chutkan may genuinely intend to give President Trump a fair trial – and may believe that she can do so – her public statements unavoidably taint these proceedings, regardless of outcome," it says.
The petition highlights several comments, including one she made in October 2022 while sentencing a 6 January Capitol rioter.
"This was nothing less than an attempt to violently overthrow the government, the legally, lawfully, peacefully elected government, by individuals who were mad that their guy lost," she said.
She later added: "It's blind loyalty to one person who, by the way, remains free to this day."
Mr Trump's lawyers say she was implying: "President Trump is free, but should not be."
Under US federal law, any judge of the United States must voluntarily recuse themselves in any proceeding in which their impartiality might reasonably be questioned.
If the judge denies the motion, Mr Trump's lawyers could appeal to a higher court requesting that she be required to step aside.
Judge Chutkan, who was appointed by then-President Barack Obama in 2014, has earned a reputation for harsh punishments against the rioters who stormed the Capitol on 6 January 2021.
She was randomly assigned to oversee this federal case against him.
Mr Trump, the current frontrunner for the 2024 Republican presidential nomination, faces mounting legal troubles.
He has been criminally indicted four times, including in this federal investigation into efforts to overturn the result of the 2020 presidential election.
Source: bbc.co.uk