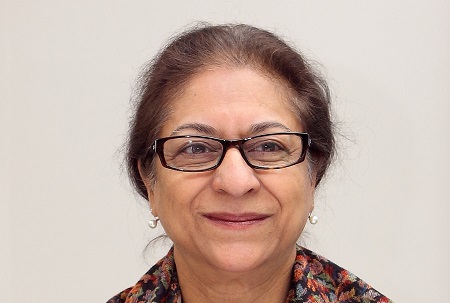 Prominent Pakistani human rights activist and lawyer Asma Jahangir has died at the age of 66.
She reportedly suffered a cardiac arrest and was taken to hospital, where she later died.
The pro-democracy activist championed women's rights throughout her career.
She was imprisoned in 1983 and put under house arrest in 2007. Five years ago, leaked documents suggested that some intelligence officers had planned to kill her.
Ms Jahangir called for an inquiry at the time, demanding the government "find the forces who wanted to silence" her.
More recently she spoke out against BBC Persian journalists being put on trial in Iran, as part of her role as UN special rapporteur on human rights in Iran.
Prime Minister Shahid Khaqan Abbasi led tributes to Ms Jahangir, saying her death was a great loss for the legal fraternity, and praying for her and her family.
Punjab state chief Shehbaz Sharif tweeted that he was "deeply saddened" at the news.
Nobel Peace Prize winner Malala Yousafzai called Ms Jahangir a "saviour of democracy and human rights".
Amnesty International's South Asia director Omar Waraich said Ms Jahangir had "never wavered".
Raza Ahmad Rumi of the Pakistan Daily Times called her a hero.
Another prominent Pakistani lawyer, Salman Akram Raja, tweeted that Ms Jahangir was "the bravest human being I ever knew" and that the world was "less" without her.
In her career, Ms Jahangir was a staunch defender of human rights and women's rights, and a pro-democracy activist, and was nominated for the Nobel Peace Prize in 2005.
She worked closely with her sister Hina Jilani on many of her endeavours.
In 2014 Ms Jahangir told AFP news agency she had seen changes in the perception of human rights in Pakistan.
"There was a time that human rights was not even an issue in this country," she said. "Then prisoners' rights became an issue."
"Women's rights was thought of as a Western concept. Now people do talk about women's rights."
Asma Jahangir's career:
Trained as a lawyer and worked in Pakistan's Supreme Court from age 30
A critic of the military establishment
Jailed in 1983 for pro-democracy activities
Put under house arrest in 2007 for opposing military leader's removal of Supreme Court chief justice
Co-founder of the Human Rights Commission of Pakistan and of the first free legal aid centre in Pakistan
Co-founder of the Women's Action Forum, set up to oppose law that reduced a woman's testimony in court to half that of a man's
The first female leader of Pakistan's Supreme Court bar association
Winner of several awards including the Unesco/Bilbao prize for the promotion of a culture of human rights and the French Legion of Honour
Served as UN special rapporteur on freedom of religion and on human rights in Iran
Source: bbc.co.uk