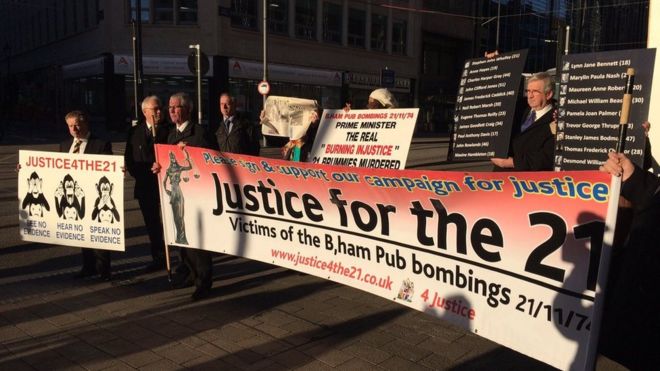 A coroner was wrong to restrict the scope of inquests into the Birmingham pub bombings, a court has ruled.
In July, coroner Sir Peter Thornton QC decided the names of the alleged perpetrators would not be part of the framework of new inquests.
But at the High Court on Friday, Mrs Justice Sue Carr said "we will quash the coroner's decision".
Twenty-one people died when two bombs were detonated in the city centre in 1974.
Sir Peter has been ordered to reconsider his decision to restrict the scope of the inquests following a judicial review heard by two High Court judges.
In the latest ruling, Mrs Justice Carr and Lord Justice Simon, said: "We are minded to quash the coroner's decision which excluded the perpetrator issue and remit the case so as to enable him to reconsider the decision."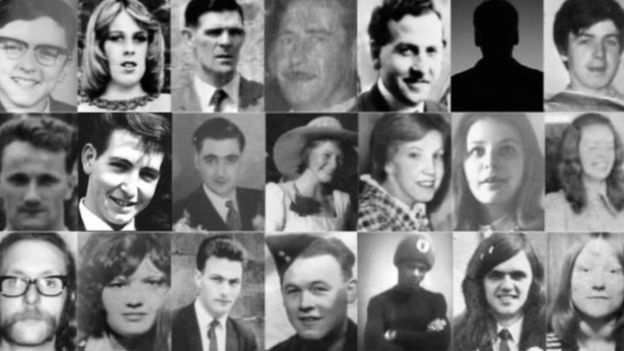 Following the hearing, a spokesman for the inquests said: "The coroner is committed to ensuring that the inquests start as soon as possible but now wishes to take some time to consider carefully the judgment handed by the High Court and its impact on the future progress of the inquests.
"The coroner is grateful for the considerable help and assistance he has had from all interested persons in the inquests to date"
A further pre-inquest review hearing is listed for 22 February.
Speaking outside Birmingham Civil Justice Centre, Julie Hambleton, whose sister Maxine died in the bombings, said the ruling was "a very positive move forward" and called it "one of common sense".
She said: "We would like to thank Lord Justice Simon and Mrs Justice Carr for hearing our appeal and for asking the coroner to go away and ask himself another question and that question is 'who murdered our loved ones?'
"We truly hope that the coroner will now reconsider and realise that without the perpetrators in scope, the inquest will make a mockery of our justice system."
BBC Midlands correspondent Phil Mackie, who was at the hearing, said the families of the victims are still angry at having to pay for legal help to get the names released, after being refused legal aid.
They have been fundraising to pay for the judicial review, which cost £40,000.
Justice4the21, the main campaign group representing many of the relatives, said they would "no longer participate" in the hearings following the coroner's decision last year.
Relatives had argued the inquests could not take place without naming suspects, while their lawyers said discussing potential perpetrators "is central to the case".
The victims' families have fought for years to have the inquests reopened. Hearings were held days after the bombings but closed without hearing any evidence.
Previously, self-confessed IRA bomb maker Michael Hayes said he was part of the group responsible for the Birmingham pub bombings.
He told the BBC he defused a third explosive in Birmingham and accepts "collective responsibility" for all of the group's actions.
Source: bbc.co.uk