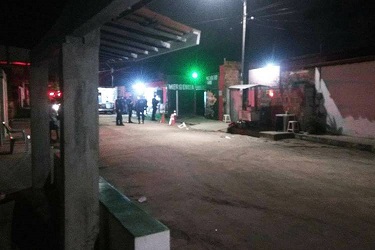 Gunmen have stormed a nightclub in north-east Brazil, killing at least 14 people.
Three cars of attackers swooped in on the venue, located on the outskirts of Fortaleza, during the early hours of Saturday morning.
Two minors are among the dead and several people were taken to hospital, including a 12-year-old boy.
Local media said the attackers were part of a criminal gang involved in drug trafficking.
The security secretary for Ceara state, Andre Costa, confirmed the deaths at the Forro do Gago club in a press conference.
"There is no reason for panic and fear," Mr Costa was quoted by the Globo news network as saying.
"It is a one-off event, as occurs all over the world, with 50 or 60 deaths," he said, adding that the police could not have done anything to stop it.
Last year, there were 5,114 murders in Ceara, a 50% rise from 2016. It was the highest toll since the state started releasing the data in 2013.
A 2015 nightclub shooting, which killed 11 people, mostly teenagers, was previously Ceara's deadliest mass shooting on record.