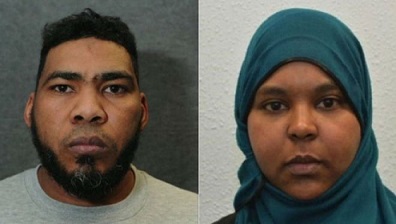 A man and woman have been found guilty of plotting a "devastating" terror attack in the UK using a homemade bomb.
Food factory worker Munir Mohammed, 36, from Derby, and pharmacist Rowaida El-Hassan, 33, from north-west London, also exchanged messages about ricin.
The Old Bailey heard asylum seeker Mohammed signed up for a "new job in the UK", while messaging an IS commander via Facebook.
He used El-Hassan's chemical knowledge after they met on a dating website.
At the time of his arrest in December 2016, Mohammed had two of the three components needed for TATP explosives, as well as manuals on how to make explosives, mobile phone detonators and the deadly ricin poison.
The trial heard that Mohammed who is from Eritrea, but lived in Sudan for some time before coming to the UK, investigated making poison while working at a supermarket ready meals factory.
Judge Michael Topolski QC remanded the pair in custody and warned them they faced jail when they are sentenced on 22 February.
Judge Topolski said: "Munir Mohammed, you have been convicted of planning a potentially devastating terrorist attack by creating an explosive device and deploying it somewhere in the UK targeting those you regarded as enemies of the Islamic State.
"Rowaida El-Hassan, you share the extremist mindset with Munir Mohammed and you were ideologically motivated to provide him with support, motivation and assistance.
"You knew he was engaging and planning an attack. You knew he was planning an explosion to kill and maim innocent people in the cause of Islamic State."
Mohammed, 36, of Leopold Street, Derby, was unanimously convicted of preparing terrorist acts between November 2015 and December 2016.
His co-accused El-Hassan, 33, of Willesden Lane, north-west London, was convicted of the same charge by a majority of 10 to one jurors.
Source: bbc.co.uk