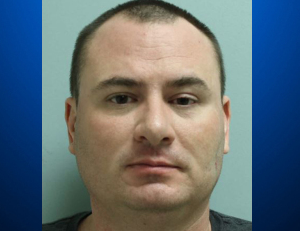 The stunned wife of a US police chief who was arrested for soliciting sex with a child says her family's lives "have been completely shattered".
Michael William Diebold, who ran the three-man police force in Leechburg, Pennsylvania, was arrested on Friday.
The 40-year-old allegedly sent explicit texts and photos with a person he believed was 14, but it was a police sting.
His wife apologised to the public on Sunday.
"I have never hurt so bad in all my life," Danielle Reinke Diebold said in a statement to KDKA News.
She described her husband as the "first man ever in my life who never made me question, never gave me a gut feeling, never a bad instinct or sign and we were even in the process of planning to extend our family".
"This is not who we knew. We knew a loving, caring father and husband and we are grieving the loss of that man," she added.
According to Pennsylvania state prosecutors, Mr Diebold was arrested on Friday after trying to meet an undercover officer who was posing online as a teenager.
The criminal complaint says that Mr Diebold had been contacted by the bogus teen after posting an advert in which he stated he was a "full-time police officer".
Identifying himself as "kutecop4you", Mr Diebold wrote: "I am a dom male that is also employed as a full time police officer. I hope that does not scare you off."
After the undercover agent claimed in the text exchange to be a 14-year-old girl, Mr Diebold allegedly responded: "Everyone has to have a first time."
The mayor of Leechburg, a borough of about 2,000 people 35 miles (55km) north-east of Pittsburgh, said the chief has been suspended without pay.
Over the summer, Mr Diebold was interviewed on national news, after he was maimed in a fireworks accident at the town's annual carnival.
Despite the injury, which led to the amputation of an arm, he and his fiancee married 18 days later.
The town raised thousands of dollars to help his recovery, and local news crews filmed his wedding.
He is now charged with unlawful contact with a minor and criminal attempt to commit involuntary deviate sexual intercourse.
Source: bbc.co.uk