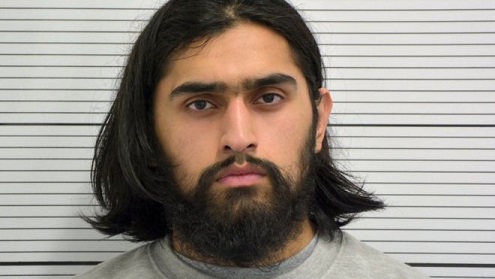 A married couple have been jailed for planning a terror attack in Birmingham.
Ummarayiat Mirza, 21, and his wife Madihah Taheer, 22, were sentenced to 16 years and 10 years respectively.
An intelligence operation had led to Mirza's arrest at gunpoint in March. Woolwich Crown Court head the couple, from Birmingham, had been planning a knife attack and had looked at targets, including the city's central synagogue.
Mirza's sister, Zainub, was jailed for 30 months for sharing propaganda.
Mirza was thought to have been planning a rampage for just days after the Westminster Bridge attack.
His wife had brought him a large knife and the couple had fantasised about a life in the territories of the so-called Islamic State.
He had pleaded guilty to preparing terrorist acts while Taheer was convicted of the same charge.
Zainub Mirza admitted five counts of disseminating terrorist publications by sending her brother IS videos on social media.
Passing sentence, Judge Christopher Kinch QC said Ummarayiat Mirza had made "inexorable progress" from enthusiasm for terrorism acts to training, sourcing of a weapon and researching a target.
His 16-year term comes with an additional five years on licence, during which he could be returned to jail if he reoffends.
He described the case as a "personal tragedy" for Taheer as the trial began when her fist child was only five months old but said she had been a willing partner at every stage of the plan.
Source: bbc.co.uk