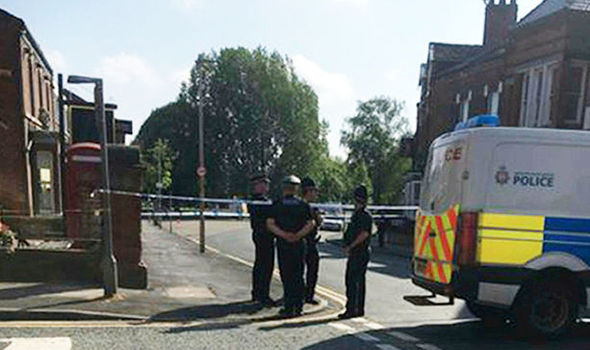 Counter-terror police investigating the Manchester Arena bombing have made a fresh arrest, taking the total number of people in custody to eight.
A man was held in the Moss Side area of the city in the early hours of Friday, Greater Manchester Police said. Searches have also been carried out overnight in the St Helens area of Merseyside but no arrests have been made.
It was the 10th arrest police had made in connection with the attack, while a man and woman have been released without charge.
With Britain on critical alert, police and security agencies have been racing to dismantle a suspected "network" linked to suicide bomber Salman Abedi, who killed 22 people in Monday's atrocity.
An address in St Helens, Merseyside, has also been searched in connection with the attack, police have said.
S
alman Abedi had phoned his mother hours before the attack and said "forgive me", according to a Libyan anti-terror official.
Libyan investigators believe Abedi acted alone when perpetrating the outrage, Special Deterrent Force spokesman Ahmed bin Salem added.
Relatives of the British-born bomber are being interrogated by Libyan authorities in Tripoli, where his father Ramadan and teenage brother Hashim were arrested on Wednesday.
Abedi's mother, Samia Tabbal, was said to have told them her son left the North African country bound for the UK four days before detonating his device at Manchester Arena.
Mr Bin Salem said of the final phone call: "He was giving farewell."
Hashim, 18, allegedly claimed his older brother learnt to build bombs from the internet, hoping to "seek victory for the Islamic State", Mr Bin Salem added.
Meanwhile on Thursday, UK police resumed "working closely" with US authorities on the probe after a tense showdown between the allies over leaked intelligence.
Amid a major transatlantic row over leaks of key evidence in the US, ministers say that shared intelligence being leaked in the US risks compromising the fast-moving inquiry.
Donald Trump has vowed to "get to the bottom" of the US leaks and said the culprit should be "prosecuted to the fullest extent of the law".
Describing the security leaks as "deeply troubling" during a speech in Brussels, Mr Trump said they "pose a grave threat to our national security".
In a separate investigation three men from London have been charged with offences under the Terrorism Act over an alleged UK terror plot.
Umar Ahmed Haque, 24, and Muhammad Abid, 27, both from Newham in east London, were arrested on 17 May along with Abuthaher Mamun, 18, from Barking.
They have been remanded in custody and will appear before Westminster magistrates on Friday.
A fourth man, Nadeem Ilyas Patel, 25, from Newham, faces a charge of conspiring to possess a firearm.
Mr Haque has been charged with preparing to commit acts of terrorism and four counts of possessing records useful for committing or preparing acts of terrorism.
Mr Abid has been charged under terror laws with failing to disclose information and Mr Mamun is accused of assisting another to commit acts of terrorism.