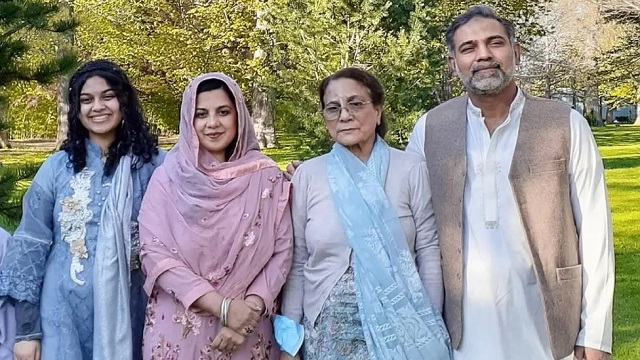 A Canadian man accused of killing a Muslim family in London, Ontario, wanted to make "all Muslims fearful for their safety", a jury has heard.
Prosecutors said in their closing argument that Nathaniel Veltman had planned to send "a brutal message".
Mr Veltman, 22, faces four first-degree murder charges and one count of attempted murder.
He also faces terrorism counts, with prosecutors arguing he targeted the family because of their faith.
The jury is now deliberating. The accused faces life in prison if found guilty.
Both the defence and prosecutors agree that Mr Veltman was behind the wheel on 6 June 2021, when a vehicle ran over three generations of the Afzaal family as they took an evening walk.
Mr Veltman has pleaded not guilty to the charges, arguing that he suffers from mental illness.
Salman Afzaal, 46, and his wife, Madiha Salman, 44, their daughter, Yumna Afzaal, 15, and Mr Afzaal's mother, Talat Afzaal, 74, died in the attack.
A nine-year-old boy was seriously hurt, but survived.
The case marks the first time a jury in Canada has heard legal arguments on terrorism related to white supremacy.
The panel will not only have to decide whether Mr Veltman is guilty of murder, but if his actions can be described as terrorism.
Prosecutors are looking to prove the murders were intentional and committed for a political, religious or ideological purpose to intimidate the public or a specific group.
In the second and final day of closing arguments on Wednesday, prosecutors sought to establish that Mr Veltman was motivated by white nationalist ideologies to attack the Afzaal family.
Crown lawyer Fraser Ball told the jury the accused became "highly radicalised" in the lead-up to the attack, and had been viewing "highly racist" content on the dark web.
Mr Ball added that Mr Veltman left a document behind, outlining his hatred for Muslims.
It was found by police on his computer shortly after his arrest, the court heard.
In his arguments, Mr Ball said the accused had looked into buying body armour as early as April 2021, and that right before leaving his apartment on the day of the attack he had re-read materials written by a mass shooter.
Mr Ball argued that Mr Veltman had "bigger goals" that day than committing murder.
"The Afzaals were just the medium. The brutal message was for a much bigger audience," he said.
On Tuesday, the 13-person jury heard closing arguments from Mr Veltman's lawyers, who said that the accused was in a "dreamlike state" on the day of the attack from consuming a large quantity of magic mushrooms.
They also argued that Mr Veltman suffered from mental conditions including depression, anxiety and a personality disorder, all exacerbated by his drug use.
Christopher Hicks, the lawyer for Mr Veltman, described his client's mental state at the time as "a runaway freight train headed for explosion".
He argued that his client was guilty of manslaughter, rather than first-degree murder.
Source: bbc.co.uk