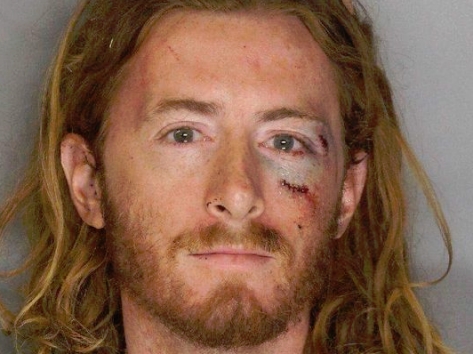 Jurors deadlocked in Sean Thompson's pie throwing trial were ordered to resume deliberations Thursday afternoon.  Jurors told Sacramento Superior Court Judge Curtis Fiorini that they deadlocked 7-5 and 9-3 on the felony assault and misdemeanor battery charges the local activist faced in the Sept. 21 incident at Sacramento Charter High School in Oak Park.
The panel's forewoman said jurors took three votes on one of the charges and two votes on the other, casting their latest vote about 11 a.m. Thursday without reaching a unanimous decision.
The forewoman told Fiorini, sitting in for trial judge Sacramento Superior Court Judge Robert Twiss, that jurors needed a clearer definition of the charges against Thompson, who struck then-Sacramento mayor Kevin Johnson in the face with a pie at the September benefit.
The local activist in the months leading to trial maintained the surprise pieing was meant as an act of political theater, a last-ditch protest against the then-mayor and his inaction on homelessness in the city. His stage was a benefit featuring civic leaders and local celebrities that his pro bono attorney Claire White described as a symbol of the city's haves and have nots.
At trial, attorney White told jurors that the wrong man was on trial for the wrong crime, saying the pie prank did not rise to the level of a felony assault.
"Mr. Thompson was engaged in an act of civil disobedience. Mr. Thompson disturbed the peace," White said in her closing argument Tuesday. "There are charges for that, but you won't see them because the District Attorney charged Mr. Thompson with felony assault."
Thompson's prank was met with Johnson's fists, leaving the Sacramento man bloodied before Johnson was pulled away by his security detail in an ugly scene that White returned to time and again at trial. White accused Johnson of avoiding defense attempts at a subpoena to testify and criticized prosecutors who said they had no plans to call Johnson to court. Johnson, nor Thompson, testified at trial.
But prosecuting Sacramento County Deputy District Attorney Anthony Ortiz said the charges were appropriate. He argued that Thompson's political protest crossed into criminal conduct when he struck the mayor, calling the case against the pie-throwing activist "clear and straightforward."
"The defendant didn't agree with (Johnson) and he decided to step up and assault him," Ortiz told jurors Tuesday in his closing argument. "This is an assault on a public official."
BY DARRELL SMITH
Source:  sacbee.com