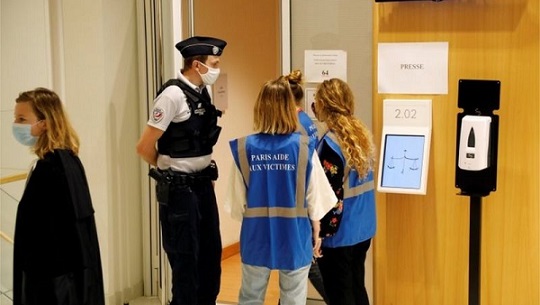 The main suspect in the 2015 Charlie Hebdo attack in France has tested positive for Covid-19 and his trial has been suspended, lawyers say.
Ali Reza Polat is accused of helping the militant Islamist attackers who killed 12 people at the satirical magazine four years ago.
The presiding judge says 10 accused accomplices must be tested for the virus before the trial can resume.
The suspension is likely to delay the trial's conclusion later this month.
Ali Reza Polat, 35, was sick and seen by a doctor, prompting the judge to suspend court for several days.
Judge Regis de Jorna said 10 other suspects must be tested, and "the resumption of the trial will depend on the results of these tests and the development of the health of the people concerned".
The defence lawyers were due to give their final submissions in the coming days, and verdicts were expected in two weeks' time.
Fourteen people in total are on trial over the attack on the magazine, as well as related attacks on a police woman and Jewish supermarket that left 17 people dead in total over three days. Three of the 14 are being tried in absentia.
The three gunmen in the two attacks were shot dead by police.
Ali Reza Polat is seen as the main link between the attacks and is believed to have had a key role in obtaining the weapons used. He subsequently attempted to flee to Dubai, Lebanon and Syria but without success.
The trial had already been delayed four months because of the coronavirus pandemic.