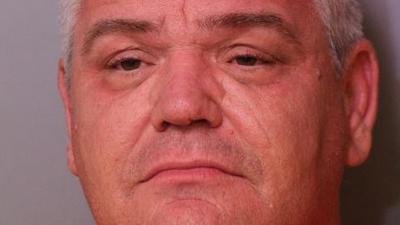 John Camfield, a former Mississippi police officer who allegedly plowed down 5 middle school students, killing 1 and leaving another in critical condition in Polk County, Florida Thursday afternoon, is being held on $600,000 bail.
Camfield continued driving from the location where he plowed into the 5 children, but hit a vehicle driven by a pregnant woman about ¾ mile down the road,
where he was apprehended after stumbling out of his vehicle and falling into an off-duty deputy's patrol car so hard he left a dent.
Preliminary investigation shows Camfield did not brake either before or after he hit the children.
Camfield initially refused a breathalyzer test at the scene on Thursday. He later agreed and about seven hours after the crash, had a breath-alcohol level of .147 — nearly twice Florida's legal limit, according to the Sheriff's Office.
Three of the children he hit were treated at the scene.  One child remains in critical condition.  Sadly, 13-year-old Jahiem Robertson, died from his injuries Friday morning.   The pregnant woman was examined at the scene.  No injuries were recorded at that time.
Polk County Sheriff Grady Judd told the media at a Friday morning press conference that Camfield has been charged with multiple alcohol-related crimes in the past, including a previous drunk driving charge in Mississippi, where he bounced around between as many as ten police departments over 18 years.
Camfield is charged with 11 counts, including vehicular homicide, driving under the influence with serious bodily injury and leaving the scene of a crash.  He is prohibited from using drugs or alcohol.