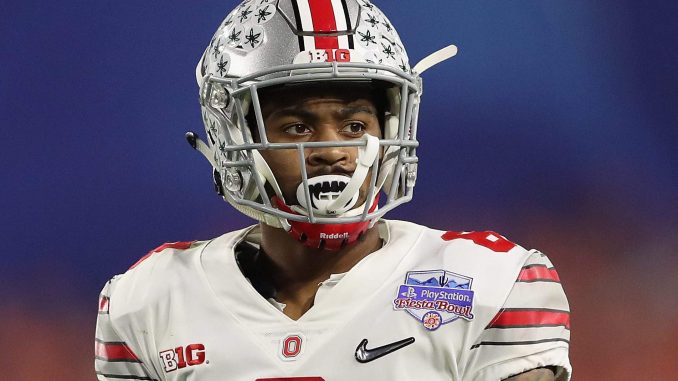 By Tom Cleary
A 23-year-old woman has accused one of the top prospects in this week's NFL Draft of raping her at a hotel in Cleveland earlier this month.
The woman reported the rape to police on the morning of April 9 just after she said it occurred. She was hospitalized for treatment and received a rape kit. She told police she met Conley in an elevator at the hotel after returning with her friends. She said she went back to his room, where Conley asked if she wanted to have group sex with his friend and his friend's girlfriend. The woman told police that she declined that offer, and Conley then raped her, before kicking her out of the room.
Conley's attorney denied the accusation.
"There was no sexual assault," attorney Kevin Spellacy told Cleveland.com. "We've cooperated fully with the police. I actually reached out to them before they even asked us."
"At this time, no warrant has been issued and no formal charges have been filed," Cleveland Police Sergeant Jennifer Ciaccia said in a statement to Heavy. "This remains an open investigation within the Cleveland Division of Police Sex Crimes and Child Abuse Unit. No further information is available at this time."
You can read the full report below:
On April 9, 2017 while assigned to zone car 9634 in company with PO Pesta #576 we received a radio assignment for a possible sexual assault at 777 St. Clair. Below are the details of this incident.

Upon our arrival we were met by the victim (redacted) who stated she was raped by a male in room 1621 of the Weston Hotel. (Redacted) was out with some friends that she walked back to the Westin Hotel with at 0245 hrs. While riding the elevator with her friends they she met the named suspect (Gareon Rashad Conley.) (Redacted) decided not to go with her friends and go with Conley to his room. While in the room, (Redacted) said another male, witness 1 (Redacted) was in the room with a black female. (Witness 1) and the black female went into the bathroom. (The victim) said while they were in the bathroom she began to hear some commotion going on. At the same time, Conley asked (Redacted) if she wanted to have a foursome with the couple in the bathroom. She told Conley she wanted to watch the couple in the bathroom. (Redacted) only said this to Conley to try and avoid having sex with Conley all together. (The victim) got up from the bed and walked to the bathroom. (Redacted) said the black female (redacted). At this time Conley was behind (Redacted). (Redacted) said Conley reach into his sock and grabbed (Redacted) spun around and unbuttoned her pants. (Redacted) was spun back around and Conley pulled her pants down. Conley bent (Redacted) over in the bathroom and began to (Redacted). During the sexual act, (Redacted) was saying, "no stop, it hurts!" After a few minutes Conley was done and kicked (Redacted) out of the room. (Redacted) described Conley as a black male who wouldn't take his sunglasses off and had an Ohio State tattoo on his left forearm.

Myself, PO Pesta, Sgt Harris #9146 and off duty Sgt. Smith #9134 went up to room #1621. We knocked on the door and no one answered. Sgt. Harris asked Sgt. Smith to get a room card key so we could get into the room. When we gained entry to the room 2 black males were sleeping. Witness 1 (Redacted) was sleeping in the bed closest to the window and witness 2 (Redacted) was sleeping in the chair next to the window. After (Redacted) gathered himself he admitted him and his girlfriend (the black female who did not want to make a statement) hooked up and he kicked her out. When (Redacted) was asked about the white girl (Redacted) he said he didn't touch her. (Redacted) said his best friend, Gareon R. Conley, was with the white girl. (Redacted) said Conley never touched her and the white girl got mad because she got kicked out of the room. Witness 2 (Redacted) said he was sitting in the chair by the window the whole time Conley and (the victim) were in the room. (Redacted) said Conley and (Redacted) were relaying (sic) on the bed together, but nothing happened. (Redacted) said the room is in Conley's name, but did not know where he was at the time of this interview.

Sgt. Gomes #9135 on scene to interview the victim (redacted). WCS #4811.

While in the room no evidence was found. The room was in normal shape.

EMS #1 conveyed victim to Metro Hospital for a rape kit and treatment.

I attempted to interview (Redacted) at the hospital, with negative results. (Redacted) just keep saying she wanted to go home and that her dignity was stripped from her in a manner of minutes. (Redacted) did not talk to me after that.

Rape kit to be picked up by day shift.

WCS #3466 #9223

Request Sex Crimes to follow up.
Conley's attorney, Kevin Spellacy, denied the accusations in an interview with WOIO-TV. He said they are "ludicrous and ridiculous."
Spellacy told the news station, "In my opinion this young lady is an opportunist and it's actually despicable."