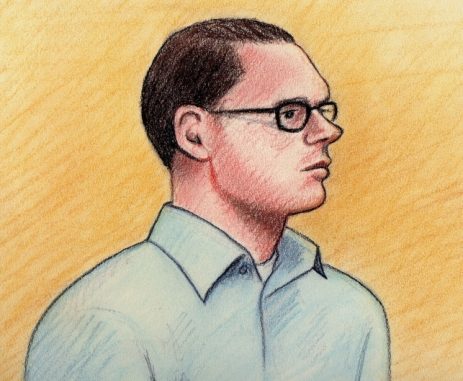 The Ottawa man on trial for murder in the fatal stabbing of 20 year-old Michael Wassill was once convicted of a brutal assault on another man with a baseball bat that put the victim in hospital with a concussion.  A Crown prosecutor at the Carson Morin first-degree murder trial opened the door Thursday to the young man's criminal past which spans several cities, including two convictions in Detroit where he once lived before being deported to Canada. Morin, 24, has pleaded not guilty to the murder charge in the killing of 20-year-old Wassill in 2013. He has maintained he killed the young man in self-defence after a scuffle in the victim's Orleans home.
Court heard Morin lived the U.S. with his mother when he was convicted in 2010 for possession of marijuana and robbery. He served time in an adult prison in Detroit before he was deported.
In 2012, he served time in jail for dangerous driving in Sudbury, and while he was in Toronto he was also convicted of possessing stolen property.
Accused pleaded guilty to assault months before Wassill killing
The jury also learned Thursday that three months before being charged with murder in the Wassill killing, Morin pleaded guilty to assault causing bodily harm after repeatedly striking another man with a baseball bat, including a swing to the head. Morin agreed with the Crown that the young man, who was selling marijuana for him, had "disrespected" him by not paying money that was owed.
The victim in that case suffered a concussion, two chipped teeth, multiple bruises, and required 10 stitches across his nose.
"He mocked you and you went to your car and came back swinging a bat and you hit him in the head?" asked assistant Crown attorney Lia Bramell.
"That is correct," Morin replied.
Bramwell read aloud Morin's statements to the judge in that assault trial, in which the accused said he had "come a long way" since the attack.
"I've been working and I've turned my life around and I can say that gladly," Morin said at the time.
The judge in that trial asked Morin if he had seen a photo of the assault victim's injuries, to which he replied, "I think about it every day."
'I didn't go there to cause mayhem'
Earlier this week, Morin testified he wore a pair of blue latex gloves to give him "confidence" and he concealed a utility knife in his pocket when he went to Wassill's house in May 2013 to collect money he said was owed to him by a woman living at the home.
In turning to the day of the killing, the Crown suggested it made no sense why Morin, who testified he didn't want a confrontation, wouldn't leave Wassill's home, considering he told the court Wassill swore at him and told him to go away.
"He [Wassill] was holding on to me and the circumstances changed and he just took it into his own hands," Morin said.
Morin agreed with Bramwell that is was easy to conceal the utility knife in the pocket of his hoodie.
The Crown then asked why he didn't use a larger weapon that he couldn't conceal like a hammer, chisel or tire iron – all of which he owned.
"I didn't go there to cause mayhem, I went there to defend myself," Morin replied. "I don't see them as weapons and they are pretty dangerous weapons."
Bramwell snapped back: "Wouldn't an Xacto knife be a dangerous weapon?"
"I'm aware of that," he replied.
The trial continues Friday.
Source: cbc.ca