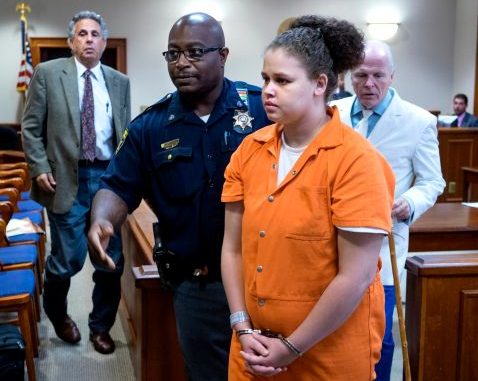 By Patricia R. Doxsey, Daily Freeman
KINGSTON, N.Y. >> Sarra Gilbert was convicted of second-degree murder Thursday in the brutal stabbing death of her mother — a repudiation of the defense claim that she was driven by mental illness, and a verdict, her lawyer said, that almost assures she will kill again.  The eight-woman, four-man jury returned its verdict shortly after 3 p.m. during its first full day of deliberations in Ulster County Court. Gilbert, 28, made no outward show of emotion when its was read.
Gilbert stabbed her mother, Mari, 52, more than 200 times on July 23, 2016, in the younger woman's Ellenville apartment. The prosecution contended Gilbert plotted the killing and carried it out because the older woman had Gilbert arrested months earlier for killing a puppy and had temporary custody of Gilbert's young son. The defense portrayed Gilbert as acting out of delusions brought on by a lifetime of abuse and mental illness and a state mental health system that repeatedly let her down.
The jury rejected the option it was given of finding Gilbert "not responsible due to mental disease or defect," meaning she was so mentally ill that she either didn't know or understand what she was doing or what the consequences were.  Several jurors said they had no doubt Gilbert was mentally ill but that they didn't believe it was severe enough to keep her from knowing what she was doing.
"We feel that she has mental illness but she was also aware of what she was doing," said one juror, who declined to give her name. "There's no doubt everyone agreed there was definite mental illness."
"I think she does have a mental illness," said another juror, Sara Mazzella of Highland. "She wasn't faking that."
Mazzella and others, however, said they thought Gilbert's drug abuse exacerbated her psychiatric issues.
The jury got the case late Wednesday morning and deliberated for only about 20 minutes before Judge Donald Williams had to adjourn for the day because of a personal matter. Deliberations resumed at 9 a.m. Thursday and included the readback of some testimony requested by the jury.
"This morning, when we convened, eight out of 12 of us said she was guilty," said juror Katie Collins of Highland.
Collins said jurors sifted through reams of evidence, including Gilbert's records from her various commitments to psychiatric facilities, crime scene photos, recordings from the body cams of police who arrested Gilbert, and telephone conversations between Gilbert and her sister while Gilbert was in the Ulster County Jail.  It was one of those telephone conversations, in which Gilbert told her sister that her attorney wanted her to plead insanity, that sealed Gilbert's fate, Collins said.
"Once we heard that phone conversation, that was it," she said.
Gilbert is to be sentenced Aug. 4. She faces a maximum of 25 years to life in state prison.
Defense attorney John Ray said after Thursday's court session that Gilbert is extremely mentally ill and a violent psychotic who needs to be institutionalized.
"I think Sarra will kill someone in prison. It is almost certain," Ray said.
Gilbert stabbed her mother with a 15-inch kitchen knife 227 times, beat her with a fire extinguisher, sprayed her with the foam from the extinguisher, stripped her and removed her jewelry.
To police and on the witness stand, Gilbert said her mother, who practiced witchcraft for most of Gilbert's life, was a demon and an evil god. Gilbert told authorities her mother was causing her to hear voices and hallucinate, and she said she stripped her mother because the older woman was drawing power from her own blood and wouldn't die.  In the video recording of Gilbert's interrogation by police, she repeatedly admitted killing her mother but also talked about being possessed and controlled by others.
Assistant District Attorney Emmanuel Nneji said he, too, had no doubt that, if she gets the chance, Gilbert will kill again — not because she is mentally ill, but rather because she is a sociopath and a "selfish individual" who, he said, "has to have her way at all times."
"Based on the evidence we have in this case and everything she did leading up to killing her mom, she is a sociopath," Nneji said Thursday afternoon. "I wouldn't be surprised if she kills again — not because of her mental illness, but because she is a sociopath."
Mari Gilbert's death was the second tragedy to befall the family in a span of about six years.  Shannan Gilbert — Mari's daughter and Sarra's older sister — vanished in May 2010 after fleeing the home of a sex client in Oak Beach on Long Island. The search for her led to the discovery of 11 sets of human remains over the span of a year: Gilbert's and those of eight women, one man and a toddler. At least four of the women worked as prostitutes.  No suspects have been identified in any of the Long Island killings, although investigators believe a serial killer, and perhaps more than one, was responsible for most of the deaths.
"Fate of murder suspect Sarra Gilbert rests with jury," April 26, 2017
"Defense attorney portrays murder suspect Sarra Gilbert as 'broken, poor, psychotic little girl,'" April 25, 2017
"'She got what she deserves': Sarra Gilbert defends stabbing her mother to death," April 24, 2017
"Murder suspect Gilbert testifies about demons, drugs, celebrities, sister's disappearance," April 21, 2017
"Gilbert driven by jealousy to kill mother, sister testifies at murder trial, April 20, 2017
"Police body cams take jurors in Sarra Gilbert murder trial to death scene," April 19, 2017
"Gruesome details, mental illness defense open trial of Ellenville woman who killed her mother," April 18, 2017
"Jury selection underway for trial of Ellenville woman accused of killing her mother," April 17, 2017
"Ellenville woman indicted in fatal stabbing of mother," Aug. 9, 2016
"Ellenville murder suspect to undergo psychiatric exam; grand jury action could come first," July 26, 2016
"Stabbing was cause of Ellenville woman's death; suspect daughter had blood on clothes, police say," July 25, 2016
Source  dailyfreeman.com