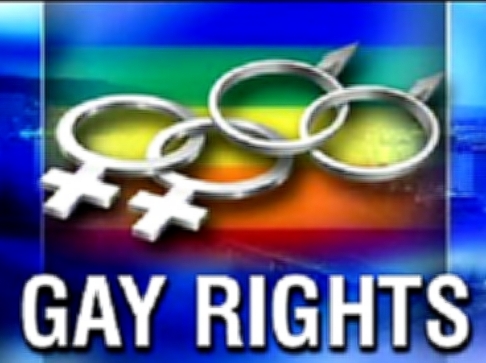 Taiwan's constitutional court began hearing a landmark case on Friday that could make the island the first place in Asia to allow same-sex marriage.  A panel of 14 grand justices will hear a debate over a disputed law that critics say is unconstitutional because it prevents unions between gay couples.
Two petitions for an interpretation of Taiwan's Civil Code have been brought by veteran gay rights activist Chi Chia-wei and the Taipei city government, which has been receiving a growing number of requests to register gay marriages.
Lawyers for Chi, legal experts and government officials will take part in the court debate, with a ruling expected within two months.  "The constitutional court's decision is legally binding," said Hsieh Kuo-lien, a law professor at the National University of Kaohsiung.  "If its decision is favourable to gay rights activists, it would be effectively legalising same-sex marriage."
At the centre of the case is a clause in the Civil Code that says an agreement to marry should be made between a man and a woman.  Authorities in Taiwan have been rejecting applications for same-sex marriages based on this clause.  The court will hear arguments over whether that part of the Civil Code contravenes elements in Taiwan's constitution which guarantee equality and freedom of marriage.  It comes after the first draft of a bill to legalise gay marriage was passed by Taiwan's parliament in December.
A legislative committee approved an amendment to the civil law that would allow gay couples to legally tie the knot.  That bill is now due for a second reading.  The debate has split society, with conservative groups saying allowing same-sex unions would destroy family values.  Both sides have staged huge marches in recent months, with tens of thousands of people taking to the streets.
Activist Chi brought the petition to the constitutional court after multiple failed legal bids to seek recognition of his marriage.  His latest setback was in 2014 when the Taipei High Administrative Court ruled in favour of a government agency that turned Chi and his partner away when they tried to legally register their union.
"I am cautiously optimistic as the world trend is to recognise same-sex marriage and the grand justices are unlikely to bar it," Chi said ahead of the court hearing on Friday.  Past attempts to legalise same-sex marriage stalled under the Kuomintang party, which dominated politics for decades until it was unseated by President Tsai Ing-wen's Democratic Progressive Party last year.
Campaigners were given new hope when Tsai was elected as she has openly supported marriage equality.
Source: scmp.com