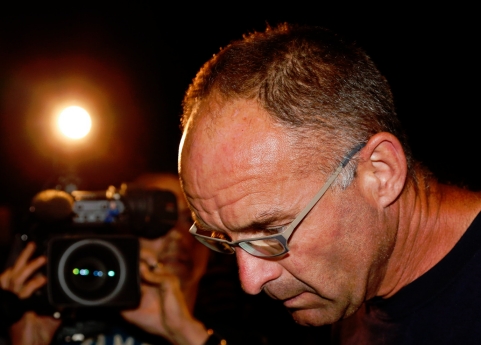 DNA of all three victims was found on Douglas Garland's property, a forensic expert testified Tuesday.  And the genetic material of two of them, little Nathan O'Brien and his grandfather, Alvin Liknes, was found on a meat hacksaw in an outbuilding on the Garland farm north of Calgary, Vivian Mohrbutter explained.
Mohrbutter, a scientist with the RCMP crime lab in Edmonton, was asked to examine multiple exhibits seized by police during the investigation into the disappearance and death of Nathan, 5, Alvin Liknes, 66, and the boy's grandmother, Kathy Liknes, 53.
Douglas Garland is charged with first-degree murder in the deaths of the trio, who when missing from the grandparents' home on June 30, 2014, after the boy had been left at the residence for a sleep over by his mother.
Mohrbutter compared the DNA profiles of the three victim to swabs taken from various exhibits, including a large hacksaw, or meat saw as one witness described it.
She told Crown prosecutor Shane Parker she found one sample on the handle of the hacksaw matched the boy's DNA profile, while a latch used to secure blades into the saw had a mixed sample with the major component matching Alvin Liknes' DNA.
DNA on a hacksaw blade, which was found loose, matched the grandfather, Mohrbutter told jurors, as Parker led her through her reports.
A pair of rubber boots found outside one of the outbuildings on the Garland farm had genetic material matching all three victims, while a bloodied light switch inside the building matched the DNA profiles of both grandparents.
Mohrbutter also analyzed swabs taken from the Liknes' Parkhill home in southwest Calgary.
A sample from a bloodied mattress in the spare bedroom of the house matched Kathy Liknes, Mohrbutter said.
The child's DNA was also found in the same room, she said.
Bloodstains in the master bedroom matched the known DNA profile of the grandfather.
Mohrbutter was able to compare unknown samples to genetic material of the three victims obtained from Kathy's toothbrush, Alvin's electric razor and the runners and hockey helmet of Nathan.
Elsewhere in the house the analyst was able to compare swabs from a dumbbell found in the garage and bloodstains on stairwell walls leading from the house.
Both grandparents' DNA was found on the dumbbell, Mohrbutter said.
Two stains on the walkway and driveway outside the home matched the grandmother's DNA.
By: K Martin
Source: Calgary Herald
Garland Trial: DNA of all three victims found on Garland farm, expert testifies