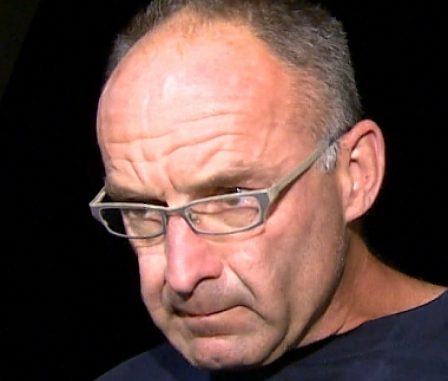 Jurors were shown disturbing photographs of dead and dismembered bodies Monday found on a computer hard drive hidden in the basement joists of Douglas Garland's home.  The three-woman, 11-man jury also viewed graphic images of women in adult diapers, many of them bound with handcuffs and other restraints.
Crown prosecutor Shane Parker had digital forensic examiner Const. Doug Kraan display the photographs on video screens in the courtroom.
But Parker asked Kraan to scroll through the images quickly and they were only shown for mere seconds.
The items were some of what Kraan discovered when he examined the hard drive, which police searchers found July 9, 2014, days after Garland became the prime suspect in the disappearance of a Calgary couple and their young grandson.
Garland, 57, faces three charges of first-degree murder in the slayings of Kathy, 53, and Alvin Liknes, 66, and their five-year-old grandson, Nathan O'Brien.
The three went missing from the couple's Parkhill home in southwest Calgary on June 30, 2014, after the boy had been left overnight for a sleepover by his mother.
Their bodies have never been found.
Among the documents and other items Kraan found on the hard drive were papers about businesses owned by Alvin Liknes and a U.S. patent he took out on an oilfield pump.
It's the Crown's theory Garland, whose sister was living with Alvin's son at the time, was motivated by revenge to kill the couple because he wasn't included in the patent.
Kraan said he also found photos of both Kathy Liknes and the couple in deleted files on the hard drive.
"There were a number of documents about killing that I found on this hard drive," he added. "Kill, or murder in the title."
One book was called Kill Without Joy: The Complete How to Kill Book, Kraan said.
He also found an autopsy manual and a file on DNA removal.
One file was simply titled "Gore."
"The Gore folder contained 87 pictures that … basically depicted dead, or dismembered individuals," Kraan said, before scrolling through the photos on the courtroom video screens.
"The folder was last accessed on July 1, 2014."
Kraan said he found images of "adult baby diapering."
"There was … pictures and videos of that nature," he told jurors, before showing them a sampling of what he found.
"These pictures would've all had been accessed in the month of June of 2014."
Other files included one called "Patents," which contained 665 documents related to patents, he said.
There was a locksmith folder which contained "quite a few" documents and pictures pertaining to locksmithing and lock picking, security system alarms, handcuffs and Tasers.
Some of those had to do with the Schlage BE365 lock, the same kind the Likneses had on their side entrance — a lock found tampered with after they disappeared.
One document was "a user guide to the BE365," Kraan said.
He said based on the information on the hard drive, the main user of the computer was Garland.
Before Kraan got into the key section of his testimony, Justice David Gates gave jurors a mid-trial instruction on what they could and couldn't make of the disturbing evidence.
"You may not infer from the evidence, however unpleasant you might find it … that Mr. Garland is a person of bad character likely to have committed the offences charged," Gates said.
The Court of Queen's Bench judge said the evidence can be used by jurors to determine identification, murderous intent and planning and deliberation.
By: Kevin Martin
Source:  cnews.canoe.com