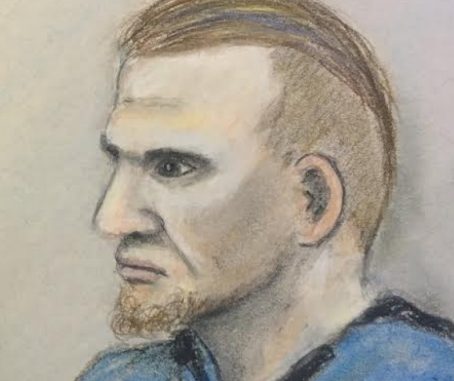 A judge is expected to deliver a verdict today for a man in a sex assault retrial that was ordered after the original judge asked the complainant why she didn't keep her knees together.  Alexander Wagar, 29, was acquitted in 2014 by Judge Robin Camp, who ruled Wagar was a more credible witness than the 19-year-old complainant.
Camp called her "the accused" throughout that trial and asked her: "Why couldn't you just keep your knees together?" He also told her "pain and sex sometimes go together."
The Alberta Court of Appeal overturned the acquittal and ordered a new trial which began in Calgary in November.
Camp is now a Federal Court judge. The Canadian Judicial Council is deciding whether to act on a panel's recommendation that he be removed from the bench.
Judge Jerry LeGrandeur has been overseeing the second trial.
Wagar's lawyer said in his closing arguments that there was evasiveness in the complainant's testimony and Wagar isn't guilty of sexual assault.
Pat Flynn called it a "consensual sex act between two young adults" and it was only afterward that the woman changed her mind.
"To be honest with the court, this is almost a buyer's remorse type of situation."
Crown prosecutor Janice Walsh said the defence brought forward an outdated version of a "woman scorned."
"That rape myth and stereotype — a woman who has engaged in sexual conduct would then become a vengeful or vindictive liar," she said in her closing arguments .
Walsh argued the alleged victim testified without "artifice, guile or embellishment and didn't evade any questions.
"Even, if for some reason, you do not believe the complainant is credible or reliable on key elements, you must find the accused, in his own testimony, has shown himself to be guilty."
Wagar testified that the sex was consensual and the alleged victim was angry he had sought out the company of another woman at the home. He also acted out in court some of the sexual acts the couple had performed.
Walsh said she had never seen anything like it in all of her years as a lawyer.
"The accused certainly put on a show for his audience, this court. He mimicked and mimed. He showboated and interpretive-danced his way through his performance because that essentially is what it was … a performance," Walsh said.
"Mr. Wagar performed for the court a self-absorbed, self-aggrandizing piece of performance art worthy of recall around the water cooler but not worthy of belief."
By Bill Graveland
Source:  Globe and Mail